Santa Barbara Black Lives Matter Community Archives: Call for Submissions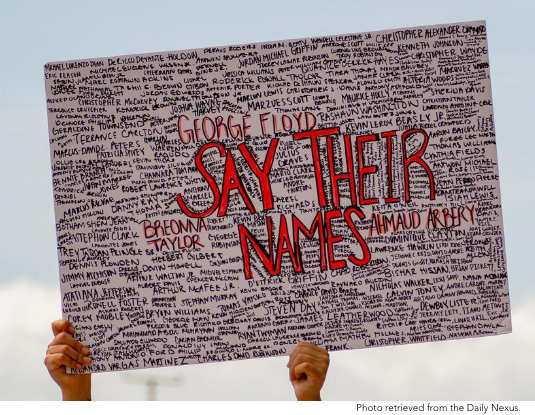 UCSB Library Special Research Collections recognizes the importance of documenting social injustice and the Black experience. We are currently collaborating with campus organizations and community members to develop a collection that lifts the voices of the Black community, including - but not limited to - materials related to the most recent waves of Black Lives Matter and police brutality protests across the globe.
The collection will focus its scope on our local Santa Barbara community experiences regardless of affiliation with UCSB; all people living in Santa Barbara county are encouraged to share their experiences and submit content to this collection. 
The Santa Barbara Black Lives Matter Community Archives Project invites everyone in the community invested in fighting anti-Blackness to be a part of the project. This collection will be accessible to the general public once files are processed into our repository. Share your poetry, short stories, photographs, protest signs, unique songs, or anything else you feel illustrates your story or the story of your loved ones, friends, and community members.
An online exhibit of the collection items submitted by you and your fellow community members will provide an inclusive perspective about the impact of the Black Lives Matter movement in Santa Barbara. By following the link below, you may fill out a form recording your thoughts and feelings and also submit any digital files that contain your original work. If you wish to donate analog materials in person (signs, photographic prints, artwork, etc.), please contact Special Research Collections by phone (805) 893-3062 or email special@library.ucsb.edu. 
Click here to fill out our form and submit your digital content.
Questions & Answers about submitting content:
How often/frequently can I submit? 
You may submit feedback and/or material as often as you like. There is no limitation on the number of times you choose to submit. 
Are submissions anonymous?
Submissions can be anonymous if you choose this option in the form. Email addresses are collected automatically for metadata purposes and will not be used to publicly identify participants. 
What format should I use? 
We are accepting any digital file format, so please feel free to create and submit content in whichever format you are most comfortable (word documents, links to your blog posts, digital images of protest signs, artwork, video, etc.). 
What shouldn't I submit? / How to protect yourself and others
Please do not identify individuals or submit information that could be used to identify individuals who took part in any protest activity. Our aim is to protect the identities of all those involved.

Please be considerate of the privacy of protest participants and do not take photographs of anyone without their expressed consent.

Image scrubbers
In order to protect the identities of those involved, it is recommended to use an image scrubber on any photographs of protest activity. An image scrubber will wipe any metadata from the image that can be used to identify the origins of the photograph. It can also be used to blur faces and other identifying information in the photograph. Follow this link to use a free image scrubber and find detailed instructions on how to use it: https://everestpipkin.github.io/image-scrubber/
How to preserve your anonymity: why/how
It is important to protect your anonymity and the anonymity of others. It is also important to protect your data. Theft, damage, and confiscation are a few of the dangers to your data. The data on your devices can be used to target people for surveillance and repression. Here is a link to some tips on how to protect yourself and your devices before, after, and during a protest: https://ssd.eff.org/en/module/attending-protest
When should I submit?
This project is open-ended and will continue to collect materials as we receive them. 
Support and Helpful Information
UCSB Library LibGuides
Resources on Race, Racial Relations, and the Black Experience in the US: Books by Angela Chikowero. This is a general guide and information resource on race, racial relations, the Black experience in the U.S., and for addressing white and other forms of privilege. 
Well-being Resources by Kristen LaBonte. This is a guide and information resource about wellness including topics like sleep and stress reduction, mental health resources, stress and coping techniques, positive psychology and mediation, and helpful links to campus and local services.
UCSB Campus Resources
Counseling & Psychological Services (CAPS) at (805) 893-4411 or by submitting a CAPS Services Request. Counselors are available 24 hours a day, seven days a week
Academic & Staff Assistance Program (ASAP) is available at (805) 893-3318 or asap@hr.ucsb.edu
Office of Black Student Development (OBSD): obsd@sa.ucsb.edu
Local Santa Barbara Organizations
Healing Justice: Black Lives Matter Santa Barbara
Martin Luther King Jr. Committee of Santa Barbara
Contact Us
If you have any questions about the project or your submissions, please contact Special Research Collections by phone (805) 893-3062 or email special@library.ucsb.edu.
You may also contact one of the project coordinators directly at their extension or email below.
Angela Chikowero, Research & Engagement Librarian: (805) 893-5873| achikowero@ucsb.edu
Matt Stahl, University Archivist: (805) 893-5473| mstahl@ucsb.edu