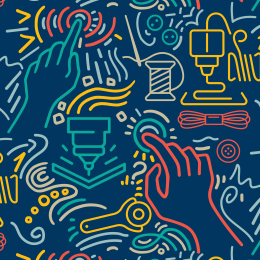 UC Santa Barbara Library is pleased to announce that it is the recipient of a $50,000 grant from the UCSB Student Fee Advisory Committee (SFAC) for the new UCSB Makerspace.
The UCSB Makerspace is an interdisciplinary experiential learning environment that fosters problem-solving, innovation, and risk-taking. Users will have access to high-quality fabrication tools, in-depth instruction, and peer support on rapid prototyping and iterative design processes. Within this dynamic community workspace, learners develop leadership and collaboration skills while transforming their creative visions into reality. Located on the first floor, Ocean Side, of the Library, the Makerspace will be open to UCSB students, faculty, and staff with an expected opening of Winter Quarter 2024.
The generous grant award from SFAC enabled the Library to purchase high-quality start-up equipment and supplies, including 3D printers, a laser cutter, a vinyl cutter, and an embroidery machine, for the Makerspace. Access to this equipment will enrich the experience of the UCSB community, increase digital literacy on campus, and provide learning opportunities through collaborative, open-ended problem solving.
SFAC is a student-led committee that reviews and recommends how the Chancellor spends the Student Services Fee revenue each year. This fee is used to support services and programs that directly benefit UCSB students and that are complementary to, but not a part of, the university's core instructional program.
For more information, visit the Makerspace website or sign up for the e-newsletter.