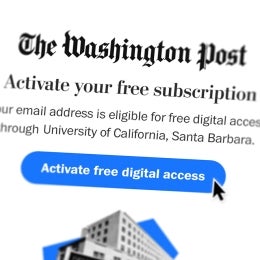 UCSB students, faculty, and staff can now enjoy complimentary access to The Washington Post online for day-to-day browsing and reading thanks to the UCSB Library's new subscription.
The Washington Post is a source for expert reporting and analysis from Washington, D.C., and around the world. With the subscription, UCSB affiliates will have unlimited digital access to content posted by The Washington Post, including reading articles, editorials and recipes on the website, using the apps, subscribing to newsletters and alerts, streaming access to press conferences, and playing games. The subscription allows UCSB affiliates to explore any and all issues of The Washington Post going back to the first issue in 1877. For more information, visit the UCSB Library research guide.
Students will have complimentary subscription access until their graduation year. Faculty and staff subscriptions will remain active as long as they have a valid UCSB email address.
How to access The Washington Post online
To activate free digital access to The Washington Post, you must create an individual account with your @ucsb.edu email address.
Visit this helpful UCSB Library research guide for more details on setting up your account and activating your subscription, along with tips and troubleshooting.
If you have an existing, paid The Washington Post subscription using a UCSB email address, you must cancel this subscription before you can activate the UCSB campus subscription. You can cancel your personal subscription through your account page or by contacting The Washington Post Help Center online or at enterprisesolutions@washpost.com.
Other news sources
UCSB Library already offers free access to the New York Times online, which the Library established in 2022.
In addition, UCSB affiliates can access current and historical articles in major U.S. and international newspapers through several databases and interlibrary loan.
Help us build our collections
Are there other resources like The Washington Post that you need for your research project, you would enjoy exploring, or would enrich the Library's collections? Please let us know by contacting the Collection Strategies Department at library-collections@ucsb.edu (for databases) or recommending a purchase (for books and other media).