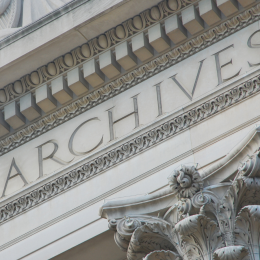 In an effort to preserve government documents and save shelf space while also improving public access to the information, all 10 University of California libraries are working together to create a shared Federal Documents Archive (FedDocArc). UCSB Library recently sent its first deposit of documents to be processed and digitized at the UC Regional Library Facilities.
Launched in 2014, the goal of the FedDocArc Project is to create a persistent archive of one print and one digital copy of every U.S. federal government document owned by the UC Libraries. All items in the archive will be accessible to anyone affiliated with UC and by members of the general public.
"Government documents are often free from copyright and have great research value as primary sources of information about our public institutions," said Lidia Uziel, Associate University Librarian for Research Resources & Scholarly Communication at UCSB Library. "As stewards of our informational heritage, it is critical that libraries proactively develop ways to ensure these documents will continue to be available for all in perpetuity."
UCSB Library has more than 40,000 titles eligible for FedDocArc with information from institutions such as the U.S. Census Bureau, the Bureau of Land Management, the U.S. Forest Service, Department of Agriculture, the National Highway Traffic Safety Administration, and various branches of the military.
By leveraging the partnership between the University of California and Google developed through the Google Books project, many FedDocArc items flagged for digitization will be digitized by Google. The rest will be handled in-house.
Once digitized, the digital copy will then become accessible through HathiTrust, a large-scale repository of digital content collaboratively created by academic and research institutions, including UC. HathiTrust provides libraries a means to archive and grant access to their digital content, whether scanned volumes, special collections, or born-digital materials. 
UC staff closely involved with FedDocArc found that it is easiest to work with one campus at a time for their full collection, which is why UCSB Library is contributing materials now, eight years into the start of the project.
UCSB Library's contribution to FedDocArc is made possible through collaboration between Mallory Gianola (Project Manager), Catherine Busselen (Database Maintenance Librarian), and Karen Scott (Cataloger / Government Information Workflow Supervisor).
The UC Libraries hope that the policies, standards, and approaches designed through the FedDocArc project process can serve as a national model for other institutions seeking to create a shared print and digital government archive.