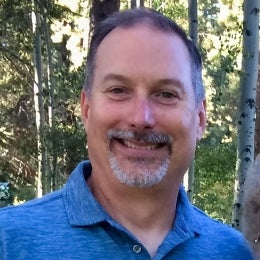 Tom Brittnacher has worked at the UCSB Library for eight years, previously as the Geospatial Data Curator and then Geospatial Collection Strategist. On February 1, he became the Library's first Curator of Geospatial and Digital Collections.
In this new role, Tom will not only be responsible for developing a holistic collection development and management strategy for geospatial collections but also will play a key role in making UCSB Library's digital and born-digital collections content more discoverable and accessible.   
We asked Tom some questions to help introduce his new line of work to the Library and campus community. 
How did your career path lead you to this new role at UCSB Library?
I've had quite a winding career path, but my positions in one way or another always involved maps and geography, including cartography, GIS analysis, and transportation planning. I've been a geospatial librarian for over 15 years, and in that time I have delved deeply into the management of digital geospatial materials and providing access to maps and data through specially-designed websites.  In this new role, I'll be expanding my knowledge and applying my experience to other types of digital materials so we can improve access to all of our digital collections.
What types of things are part of the geospatial and digital collections?
The geospatial collection includes physical and digital materials, such as paper and digital maps, and air photos in print, negative film, glass, digital, and other formats.  The collection also includes atlases, globes, CDs, DVDs, and microfilm, among other formats.  Although the bulk of the collection focuses on Southern California, we have worldwide coverage, especially in paper maps and atlases.  Our air photo collection is one of the largest university collections in the country, with photos dating back to the 1920s. 
What is unique about managing digital and born-digital content versus physical materials?
Digital materials pose unique challenges at every step of their lifecycle.  Library policies, workflows, and tools have been primarily geared toward physical materials, mainly books. Over time, as digital materials have become a larger part of our collection, we have developed new methods that take into account the lack of title page, binding, shelf, or barcode.  It's harder to tell at a glance what a file is or who created it, and usually, special software is needed to read it.  It's also much more difficult to provide our users access to digital materials, but we are continually developing new online tools that provide direct access to the files from anywhere.
What do you wish more people knew about the geospatial collection?
Our geospatial collection provides an excellent view of how our world is changing over time.  Maps and air photos are records of past landscapes and perspectives.  We can see how transportation networks and human settlements have evolved or how one culture views another.  Much of the information on paper maps has not been transferred to the web, so the only way to explore it is through these physical materials.  However, with information primarily being studied and shared via computers, we are striving to digitize important pieces of our collection.
What are you most looking forward to in this new role? 
While my primary interest is still in geospatial materials, I'm looking forward to exploring other digital material types and helping to develop policies and workflows to improve access to those collections as well.  We have a rich digital collection in the library, and I'm striving to improve access to much more of those materials.