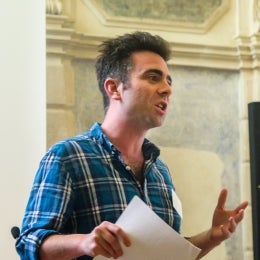 In celebration of Open Education Week (March 7-11, 2022), the UCSB Library is highlighting one professor's experience as he undergoes the process of publishing a textbook as an open educational resource (OER). As the Library continues to deepen its commitment to an open paradigm for research and teaching, we want to support more faculty and lecturers who are interested in using OERs to help create a learning environment with fewer technical, financial, and copyright barriers.
Prof. Dan Korman has been writing his own textbook for his Phil 1 (Short Introduction to Philosophy) class and will soon publish it as an open educational resource. 
"I spent all this time writing a book and I want people to get it, use it, and benefit from it, not have it sitting behind a paywall," he said. "I want other philosophy professors to be able to easily access the content and use it in their own classes, which is part of why I want to make it freely available to anyone."
Korman added that by using an open book for this class, which has up to 250 students per quarter, he can bypass the common headaches of wondering "Will my students be able to get the book? Will Amazon be behind? Will a student who joined the class late be able to get it in time to complete assignments?" 
Currently, students are using the version of his book that is posted as a PDF on Korman's website and can be printed at a low cost at Associated Students Publications. As he got closer to finalizing the text, he recognized there was more to open publishing beyond posting a PDF online, but wasn't sure what to do next.
Korman spoke with Philosophy subject librarian gary colmenar about the book and colmenar connected him with librarian Angela Chikowero, who graduated from the Scholarly Publishing and Academic Resources Coalition (SPARC) Open Education Leadership Program in 2021.
Chikowero walked him through all the aspects of open access publishing, including how to get a Creative Commons license, which websites and apps you can use to create an ebook, and advice on distribution platforms to use so the textbook is discoverable
"The Library and Angela Chikowero, in particular, have been incredibly helpful in helping me navigate open textbook publishing and understanding what I need to know to get this out on platforms and turn this into something more than a PDF that I have on my website," said Korman.
"I am thrilled that Professor Korman looked into open educational resources to ensure all his students don't have to worry about the cost of textbooks for his course," said Chikowero. "I am grateful we were able to help him make informed decisions pertaining to the tools he needed to publish his OER."
The final book will soon be sent to UC Davis for publishing by LibreTexts, a national consortium launched by Prof. Delmar Larsen that creates online resources to replace conventional textbooks and course materials. With grant funding, students at UC Davis will turn Korman's textbook into an OER format and will make it possible for people to order a low-cost print copy if they prefer.
"I'm hoping to eventually write textbooks for all of my introductory classes so I can do this across the board," said Korman. 
If you are a UCSB faculty or lecturer interested in learning more about how the Library can support you in using OERs, please email achikowero@library.ucsb.edu.