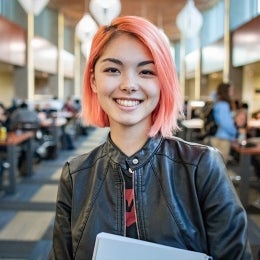 1. Because it is the foundation of a successful research university
The UCSB Library is the driving force that fuels research and innovation, serving students and faculty across disciplines with valuable resources and instruction. 
2. Because it is a home away from home for students
Students visit the Library more than any other space on campus and spend an average of 6 hours per week accessing research materials, study spaces and other Library support services.
3. Because it preserves the past to inform the future
The Library's Department of Special Research Collections holds unique and rare materials--from rare books to music cylinders--that are preserved and made available to researchers and scholars worldwide. 
4. Because knowledge belongs to everyone
The UCSB Library is open to the UCSB community and the general public as a resource for learning and engagement. Our mission is to ensure that knowledge is available to anyone who wants to access it. 
5. Because libraries are essential now more than ever
Libraries are our most sacred democratic institutions where we preserve history and truth.
Help ignite the power of ideas with your tax-deductible gift!
Every gift makes a difference. Make an online donation today. 
For more information about how to support the UCSB Library, contact Heather Silva, Senior Director of Development, at heathersilva@ucsb.edu or 805-893-5732.