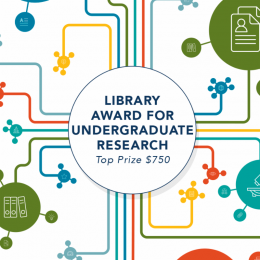 On June 2, 2022, six students were recognized at the fourth annual Library Award for Undergraduate Research (LAUR) ceremony. The awardees demonstrated deep engagement with the Library's collections, resources, and services while producing a scholarly or creative work. To be eligible for the award, students have to submit not only a final research or creative project, but also a bibliography and a reflective essay describing their research process. 
This year, we received more submissions in each category than in any previous year. The judges looked for how the students described their search strategies, evaluated sources, persevered through research obstacles, and demonstrated growth in their knowledge about Library resources. First place winners will receive an award of $750 and second place winners will receive $500.
The 2022 Library Award for Undergraduate Research was made possible with generous support from Valerie and Gilbert Romoff.
2022 Library Award for Undergraduate Research Winners
Humanities & Fine Arts
1st Place – Sabrina Hall
Senior | Major: History
Welfare Reform, It's What's For Lunch: How the Black Panther Party's Free Breakfast Program Changed School Lunch Across America
2nd Place – Emily Searson
Senior | Major: History
"The computer got it wrong": The Cold War Roots of the Racial Biases in Artificial Intelligence
Social Sciences
1st Place – Taylor Roe
Senior | Major: Environmental Studies
Sea Level Rise Risk Perceptions: Assessing Students at the University of California, Santa Barbara
2nd Place – Ania Ohanesian
Senior | Major: Economics
Political Ideology and Early Restaurant Avoidance during Covid-19
Science & Engineering 
1st Place – Brina Aceves
Senior | Major: Department of Molecular, Cellular, and Developmental Biology
Uric Acid Crystal Deposition Leads to Increased Inflammation that Drives Cyst Growth
2nd Place - Chenjia Liu
Senior | Major: Environmental Studies
Spatial Analysis of Rooftop PV Suitability and Solar Potential of UCSB Campus and Isla Vista