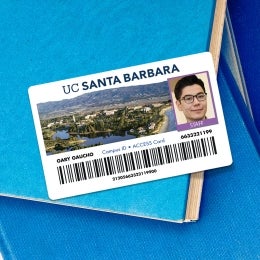 The UCSB Library is pleased to announce that starting March 1, 2023, UCSB employees no longer need to come to the Library Services Desk in person to activate their Library cards/accounts before being able to use Library services. The Library now receives a regularly-updated data feed to our Integrated Library System that provides the necessary employee information. Library cards will automatically be activated for all new UCSB employees, including new emeriti. Your UCSB Access ID card functions as your Library card.
When prompted in online Library systems for a Library card or account number–such as when using a self check-out machine or logging into "My ILL Requests"–employees should enter 21205 followed by their UCPath Employee ID number. For employees with newer Access cards, that number is printed directly on the bottom of your Access card under the barcode. For employees with older Access cards, you can login to UCPath to look up your UCPath Employee ID at https://www.ucpath.ucsb.edu/. 
There are no changes to the way that you login with your netID and Password to access e-resources from off-campus or to login to "My Library Account or "My Special Collections Research Account."
If you have any questions about your Library card/account, please contact circ@library.ucsb.edu.