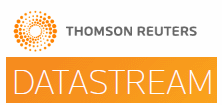 Datastream provides significant historical time series data including equity, index, commodity, currency, bond, futures, options, and economic data. Datastream provides access to Worldscope data covering historical financials of companies worldwide. Datastream also provides access to ASSET4 ESG data which includes 500 metrics on more than 4,700 global companies covering environmental, social, and governance factors.
Use to find historical data for a variety of securities and markets worldwide. The Excel add-on allows researchers to download data on multiple securities simultaneously.
Datastream is installed on all Collaboratory workstations in the Library, but only 2 users can access the service concurrently. Restricted to current UCSB faculty, students, and staff. No walk-in access (including alumni). To get a login for access to Datastream, ask at the Collaboratory staff desk. Please note that at any given time, both accounts ("seats") may already be in use.