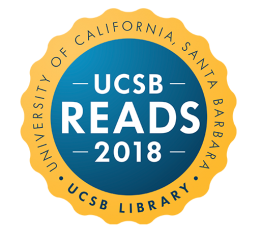 November 16, 2017
UCSB Reads 2018 Book Announcement: Lab Girl by Hope Jahren
The UC Santa Barbara Library and the Office of the Executive Vice Chancellor are pleased to announce the selection of a book for UCSB Reads 2018 — Lab Girl, by prize-winning paleobiologist Hope Jahren.
Since the program's start in 2007, UCSB Reads, led by the UCSB Library, has been bringing the campus and Santa Barbara communities together each year for dialogue about important topical issues while reading a common book.
Lab Girl chronicles Jahren's coming-of-age experience as a female scientist and juxtaposes this with beautifully-rendered meditations on the life of plants. Jahren courageously describes the difficult passages of her life, from her struggles with mental illness to the financial hardships of starting a research lab, while celebrating the joys of scientific discovery and friendship. The winner of both the National Book Critics Circle Award for Autobiography and American Association for the Advancement of Science/Subaru Science Books & Film Prize for Excellence in Science Books, Lab Girl is a compelling memoir that brings science to life and cultivates compassion for the environment.
An advisory committee made up of faculty, staff, students, and community representatives selected Lab Girl for its wide appeal to scientists, humanities scholars, and readers across the disciplines.
UCSB Reads 2018 will begin in January when the Chancellor, Executive Vice Chancellor, and University Librarian distribute free copies of the book to UCSB students in the UCSB Library. During the winter and spring quarters, UCSB Library will sponsor faculty talks, book discussions, exhibitions and other programs on campus and in the community. Jahren will deliver a free public lecture in Campbell Hall on April 3, 2018.
Dr. Jahren's research focuses on living and fossil organisms, and studies how they are chemically linked to the global environment. She received her Ph.D. from the University of California, Berkeley, and was a tenured professor at the University of Hawai'i from 2008 to 2016, where she built the Isotope Geobiology Laboratories with support from the National Science Foundation, the U.S. Department of Energy, and the National Institutes of Health. Jahren is the recipient of three Fulbright Awards and is one of four scientists, and the only woman, to have been awarded both of the Young Investigator Medals given in the earth sciences. She currently holds the J. Tuzo Wilson Professorship at the University of Oslo, Norway.
Faculty are encouraged to incorporate Lab Girl into their winter or spring courses; the Library will provide free copies of the book to all students enrolled in these courses. If you wish to teach the book, participate in campus or community programming, or support UCSB Reads 2018, please contact:
Alex Regan, Events and Exhibitions Librarian
Phone: 805-893-3605
Email: UCSBReads@library.ucsb.edu