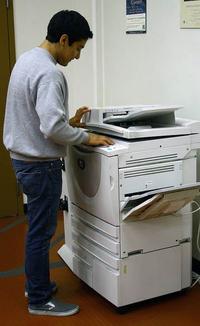 Public photocopiers are located on every floor of Davidson Library (except the 8th floor) and on both floors of the Arts Library. All photocopiers are self-serve except the one in Special Collections.
How Much Does it Cost?
Photocopies are 10 cents per page using either a copy card or cash.
Self-serve photocopiers accept coins (no pennies), cash ($1, $5, $10 or $20), and copy cards.
Copies of materials in Special Collections will be made for you by library staff.
Photocopies cost 10 cents per copied side (a double-sided photocopy costs 20 cents per sheet).
Is Color Copying Available?
Color printing is not available in the library. Alternative Digital Printing in the University Center (UCEN) has color copiers and offers a full range of copy-related services.
Copyright Compliance
Users of the library's self-service copiers must observe U.S. copyright laws. For more information, see our guide on Copyright & Fair Use.