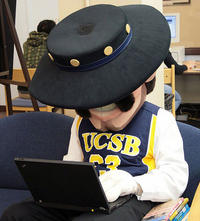 The UCSB Library offers free wireless access (Wi-Fi) in all public areas. To access the free wireless network, you must be a current UCSB faculty, staff, or student, and must know your UCSB NetID and password.
Connecting to the Library's Wireless Network
Make sure you have:
A wireless enabled device with Internet browser software installed.
A wireless adapter with TCP IP installed. The adapter must support 802.11a, 802.11b, or 802.11g.
Instructions for connecting:
Using your device's network utilities, look for the wireless network named "UCSB Wireless Web."
Once you are connected to the wireless, open a browser.
You will be directed to sign in to the UCSB Wireless Network.
Troubleshooting:
Limitations and Disclaimers Regarding Wireless Access
The library's wireless network is not secure. Information sent from or to your laptop can be captured by anyone with the appropriate equipment and technology.
Library staff cannot provide technical assistance. There is no guarantee that you will be able to make a wireless connection.
The library assumes no responsibility for laptop configurations, security, or data files resulting from connection to the library's network.