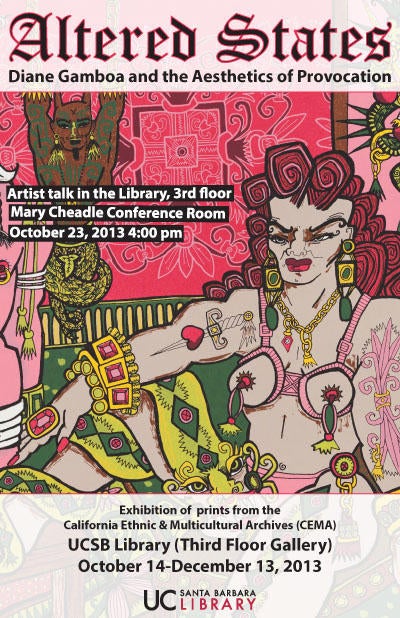 Altered States: Diane Gamboa and the aesthetics of provocation
October 14 – December 13, 2013
listen to Gamboa's artist talk
online exhibit
Los Angeles-based Chicana artist Diane Gamboa is a multi-media figurative artist who has been creating and exhibiting art for more than twenty years. Finding inspiration in the urban environment, Gamboa is well-known for her photographs documenting the punk rock music scene in Hollywood and East L.A. in the 1970s and '80s and for her disposable "Hit and Run" fashion shows featuring paper streetwear.
This exhibition of twelve silkscreen prints, created between 1983 and 2009, explores the work of the artist as subaltern provocateur. Gamboa's iconography challenges the viewer by drawing us into vibrant and psychically intense settings that push the boundaries of our dualistic understandings of the dominant and subordinate, male and female, human and object, and pain and pleasure. Influenced by her work with marginalized communities such as homeless youth and transvestites, the series evokes both a sense of alienation and reclamation.
All of the pieces are drawn from the Self-Help Graphics & Art collection in the Library's California Ethnic and Multicultural Archives (CEMA) within Special Collections. Self-Help Graphics & Art is a community arts center that was founded in Los Angeles in 1973 to be a resource for young and emerging Latino artists. Gamboa was a visiting artist in CEMA in 2011.
Altered States is presented in conjunction with Gamboa's Regents' Lectureship on the UCSB campus in the fall of 2013.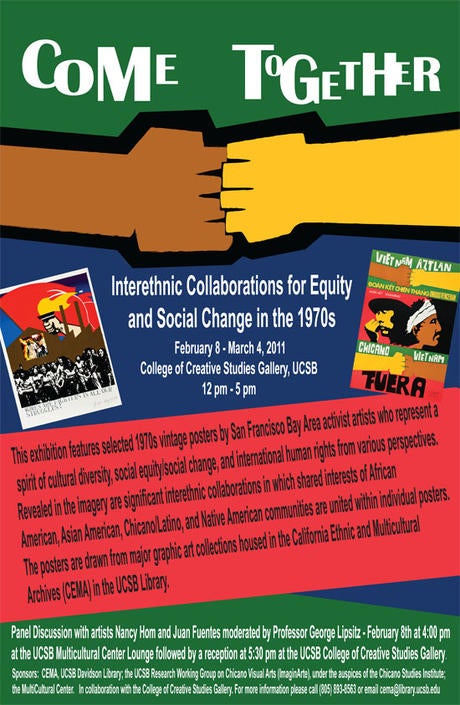 Come Together: Interethnic Collaborations for Equity and Social Change in the 1970s - Online Exhibit
This online exhibition features selected 1970s vintage posters by San Francisco Bay Area activist artists who represent a spirit of cultural diversity, social equity/social change, and international human rights from various perspectives. Revealed in the imagery are significant interethnic collaborations in which shared interests of African American, Asian American, Chicano/Latino, and Native American communities are united within individual posters. The posters are drawn from major graphic art collections housed in the California Ethnic and Multicultural Archives (CEMA) in the UCSB Library.