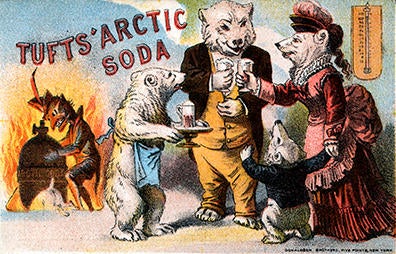 Almanacs and Works about Time. Primarily early American items such as the Astronomical Diary… (1759+), New England Almanack (1789+), Farmer's Almanack (1800+), New England Anti-Slavery Almanac (1841), Affleck's Southern Rural Almanac… (1851), and the California State Almanac and Annual Register (1856). Also, the Almanach de Gotha, a genealogical, diplomatic, and statistical gazetteer for all countries of the world (1800-1944). An associated manuscript collection, the Donald C. Davidson Collection, focuses on concepts and writings about time. The Davidson endowment has funded acquisition of many of these works.
American Religions Collection (ARC). The American Religions Collection contains more than 30,000 books, as well as a large number of serials and approximately 1,000 linear feet of manuscripts mainly relating to 20th century non-traditional religions and splinter groups of larger religious bodies in North America. The core of the collection, assembled by J. Gordon Melton, includes major sections relating to Astrology, Buddhism, Christian Science, Evangelical Christian, Hindu, Islam, Magick, Mormon, New Age, Spiritualism, Theosophy, and numerous other groups and movements. ARC also includes the Russell Chandler (Los Angeles Times religion column), Cult Awareness Network, Mark Jurgensmeyer / Radhasoami, Anthony U. Leitner (primarily Buddhism), Lockman Foundation (bible translations), Religious Leaders of America, Worldwide Church of God, and Robert S. Zeiger (Old Catholic) collections.
See Also: ARC American Religions Collection
Bernath [Stuart L.] Memorial Collection. Nearly 2,000 books and 80+ manuscript collections focusing on American diplomatic history and international relations. Included are papers of James Stuart Beddie (scholar and Foreign Service officer, who worked on the post-WWII German War Documents Project), Stuart L. Bernath (American historian, whose main work was on diplomacy in the Civil War era; his family has established an endowment to support the collection named after him), G. William Gahagan (propaganda used both in the Pacific and Atlantic theaters during WWII), Great War Collection (records of individual units government documents, photographs, scrapbooks, maps, pamphlets, and serials, also several hundred books, cataloged separately), Charles Montgomery Hathaway (American academic and diplomat, with service in the Dominican Republic, England, Ireland, Budapest, Bombay, and Germany, ca. 1912-1939), and the Wilson-McAdoo Collection (Woodrow Wilson and family, much relating to his daughter Eleanor Wilson McAdoo). Also, a number of latter 19th-early 20th century photograph collections, mainly depicting experiences of Americans abroad – travelers, businessmen, educators, missionaries, military, and government officials.
Bibles. Early copies, many with extensive illuminations, from the mid-13c, including the 'Santa Barbara Bible' (ca. 1250), Biblia Latina (ca. 1297), Biblia sacra latina (1350); A Noble Fragment, being a Leaf of the Gutenberg Bible, 1450-1455…; Coverdale Bible, 1535 (first complete bible in English; gift of C. Pardee Erdman); several other 15th-18th century bibles, and the Greek New Testaments Collection (primarily 16th-17th century). Facsimile editions of early works include The Lorsch Gospels (ca. 810), the Wenzelsbiblel (ca. 1400), and The Beginning of the New Testament Translated by William Tyndale (1525). Also, modern fine press editions such as the Doves Bible (1903-1905) and the Pennyroyal Caxton Bible, designed and illustrated by Barry Moser (1999). Other manuscript holdings include the Isaac Foot Collection (with bible leaves, ca. 1530-1611), Medieval Manuscript Fragments (with leaves from bibles, devotional books, scholars' texts, liturgical musical texts, and texts of religious readings, 9th-15th centuries), Original Leaves from Famous Bibles: Nine Centuries 1121-1935… collected and annotated by Otto F. Ege, and "Biblical Library of Stanley S. Slotkin," with 30 original leaves and accompanying printed text for 16th-18th century bibles and other religious works. Also, related reference works on early bibles.
Center for the Study of Democratic Institutions Collection (CSDI). Records of the internationally renowned Santa Barbara-based think tank, emphasizing issues such as education, freedom of the press, international relations, public policy, religion, and science and technology in modern society. Included are materials relating to CSDI leaders such as Robert Hutchins, Harry Ashmore, Elisabeth Mann Borgese, W. H. Ferry, Frank Kelly, Stanley K. Sheinbaum, and Harvey Wheeler. Also includes papers, talks, correspondence, and other materials relating to hundreds of other well known figures such as Mortimer Adler, Alexander Comfort, William O. Douglas, Mircea Eliade, J. William Fulbright, Hubert H. Humphrey, Clark Kerr, Eugene McCarthy, Gunnar Myrdal, Reinhold Niebuhr, Linus Pauling, James A. Pike, B. F. Skinner, Adlai Stevenson, Arnold Toynbee, UN Secretary-General U Thant, and Earl Warren. Thanks to donors Neal Linson, Ceil Pulitzer, and Stanley Sheinbaum, some of the most important conference proceedings, talks, and dialogues recorded by CSDI have been digitized and are available on the web at the CSDI Audio Archive.
Community Development and Conservation Collection (CDCC). Also known as the Pearl Chase Collection, focusing on Santa Barbara history in the 20th century. Included are papers relating to several hundred local organizations (especially pertaining to architecture, gardens, housing, land use, and planning), as well events such as Fiesta, Chase family papers, and numerous photographs of local scenes.
Darwin / Evolution Collection. Nearly 3,000 volumes, including first, signed, and limited editions of books by Charles Darwin and others engaged in the debate on evolution and studies in related fields such as anthropology, botany, genetics, geology, heredity, natural history, population, and religion. Some accompanying manuscript material relating to Bernard Darwin, Charles Darwin, Francis Darwin, Julian Huxley, Thomas Henry Huxley, John Stuart Mill, Richard Owen, Herbert Spencer, and Marie Stopes.
Davidson [Eugene] Collection, ca. 1917-2002. Books and papers of an historian and editor of Yale University Press, primarily relating to 20th century German history, including the Weimar Republic, Third Reich, Holocaust, Nuremberg trials, international war tribunals, and the Cold War period.
Early Works – Ancient / Classical. Mainly Greek and Latin editions, from the 15th century onwards, by Aristotle (Trattato dei governi …, ca. 1549), Augustine (Tabula Diui Aurelii Augustini in Librum Psalmorum, 1493), Julius Caesar (Commentaries, 1543), Cicero (Epistolaru …, 1536), Ovid (Amatoria, 1536), Demosthenes, Euripides, Homer, Horace, Juvenal, Lucretius, Virgil, and others. Also, a number of fine press editions of classical writers, and examples of early writing such as Sumerian clay tablets, ca. 2000 BC.
Early Works – Medieval to 17th Century. Holdings include a number of important works such as the 'Santa Barbara Bible' (ca. 1250), Biblia Latina (ca. 1297), Biblia sacra latina (1350), medieval illuminated manuscript leaves (ca. 10th-16th centuries), Gutenberg Bible leaves (ca. 1454-1455), the Nuremberg Chronicle (1493), a 15th century French Book of Hours, several incunabula (e.g. Austinus de Ancona, Summa de postestate ecclesiastica, 1473), Greek New Testaments (ca. 16th-19th centuries), Holinshed's Chronicles (a source for William Shakespeare's historical plays - 1587), William Shakespeare's Merry Wives of Windsor (1602). Also, early editions of works by authors such as Dante Alighieri, St. Augustine (Tabula Diui Aurelii Augustini in Librum Psalmorum, 1493), Francis Bacon (The Historie of the Raigne of Keng Henry the Seventh, 1622), John Bunyan (A Book for Boys and Girls …, 1686), Desiderius Erasmus, Moliere, and Francois Rabelais (Oeuvres, 1558), as well as limited facsimile editions of milestones in the history of the book, such as the Book of Kells (ca. 800), Domesday Book (1086), and the Ellesmere Chaucer (ca. 1400-1405).
Early Works – 18th Century. First and early editions for authors such as James Boswell (incl. The Journal of a Tour to the Hebrides with Samuel Johnson, 1785), Daniel Defoe, Denis Diderot (Encyclopedie, 1755-1780), Benjamin Franklin (Political, Miscellaneous, and Philosophical Pieces, 1779), John Gay (Beggar's Opera, 1791 ed; also scrapbookof theatrical productions from the time), Oliver Goldsmith (Vicar of Wakefield, 1773 ed), Samuel Johnson (incl. his Dictionary, 1755), Isaac Newton (incl. Chronology of Ancient Kingdoms Amended, 1728), Alexander Pope, Friedrich Schiller, Jonathan Swift (incl. A Tale of a Tub, 1704), Voltaire (incl. Epitres, satires, contes, odes, et pieces fugitives, 1771), John Wesley, and Mary Wollstonecraft (incl. A Vindication of the Rights of Woman …, 1792). Some manuscript material from the time period, including the Ballitore Collection (mainly papers of the Shackleton and Leadbetter Quaker families of Ballitore, Ireland, incl. Edmund Burke correspondence).
Ernst [Morris L.] / Banned Book Collection. Examples of more than 700 books banned in various countries throughout history, with an accompanying manuscript and reference collection explaining why they were banned. Includes such well known works as Hans Christian Andersen – Fairy Tales, Samuel L. Clemens – Adventures of Huckleberry Finn, The Wisdom of Confucius, Daniel Defoe – Life and Adventures of Robinson Crusoe, Charles L. Dodgson – Alice's Adventures in Wonderland, Arthur Conan Doyle – Adventures of Sherlock Holmes, Nathaniel Hawthorne – Scarlet Letter, Adolf Hitler – Mein Kampf, Victor Hugo – Les Miserables, James Joyce – Ulysses, Sinclair Lewis – Elmer Gantry, Henry Miller – Tropic of Cancer, J. D. Salinger – Catcher in the Rye, and many others.
Fine Presses. Very limited editions, often with handmade papers, unique illustrations, and fine, decorated bindings. Primarily 19th and 20th century British and U.S. presses. Notable examples include John Dryden (transl.), Fables from Boccaccio and Chaucer (Chiswick Press, 1822); the Doves Bible, (Doves Press, 1903-1905); Ted Hughes, Howls and Whispers, ltd. ed., no. 23 of 110 (Gehenna Press, 1998), Emily Dickinson, Compound Frame: Seven Poems, ltd. ed., no. 56 of 120 (Janus Press, 1998); William Morris, Gothic Architecture… (Kelmscott Press, 1893); Dard Hunter, Primitive Papermaking (Mountain House Press, 1927); Jose Montoya, el sol y los de abajo, ltd. ed., no. 96 of 195 (Ninja Press, 1992); Pennyroyal Caxton Holy Bible, ltd. ed, no. 58 of 400, designed and illustrated by Barry Moser (1999), 33 1/3: Off the Record (Edition Reese, 2000).
Foot (Isaac) Collection. The Foot Library, with more than 50,000 volumes in the family's country house in Cornwall, was purchased in 1962 by the University of California and distributed among five UC campuses: Berkeley, Davis, Los Angeles, Riverside, and Santa Barbara. The UCSB portion includes early bibles (from the 13th century), Greek testaments, incunabula, 17th and 18th century monographs, English Civil War tracts, French Revolutionary and Napoleonic history, and items relating to Wesley and Methodism. Also a small manuscript component, with 16th-17th bible leaves, and correspondence of Joseph Addison, Edmund Burke, Samuel Taylor Coleridge, H. L. Mencken, William Pitt, Alexander Pope, Samuel Wesley, Sarah Wesley, other Wesley family members, and William Wilberforce.
The Humanistic Psychology Archives (HPA). Materials generated by the founders, pioneers and major individuals, organizations, centers, and institutions participating in humanistic psychology, including its historical, literary, social and artistic aspects. HPA, founded in 1986, contains nearly 200 collections, with major holdings relating to the Association for Humanistic Psychology (AHP), George I. Brown, James F. T. Bugental, Esalen Institute, Stanley Keleman, Abraham Maslow, Rollo May, Carl R. Rogers, Virginia Satir, Stewart B. Shapiro, Bob Tannenbaum, John Vasconcellos, and Alan Watts.
Isla Vista Collections. Includes the Isla Vista Archives (from the Isla Vista Recreation and Park Department), audiovisual materials (primarily audio tapes), photographs, government and university studies and reports, literature and poetry, newspapers, papers of individuals, and records of organizations such as the Isla Vista Improvement Association. Most materials are from latter 1960s and 1970s, and cover a wide range of issues such as the anti-Vietnam War protests, Isla Vista riots, Isla Vista governance, housing, land use, and the environmental movement. Support for the collections has generously been provided by the Neal J. Linson family.
Literature – 19th Century. First, limited, and early editions, with particular strengths for American and British authors such as Louisa May Alcott, Charlotte and Emily Bronte, Lewis Carroll (incl. 1866 edition and 1969 Salvador Dali edition of Alice's Adventures in Wonderland), Stephen Crane, Richard Henry Dana (whose mid-19th century Two Years before the Mast includes Santa Barbara observations), Charles Dickens (incl. first, early, and fine press editions of works such as David Copperfield, 1850), Frederick Douglass (incl. Narrative of the Life of Frederick Douglass: An American Slave, 1846), Ralph Waldo Emerson, Thomas Hardy, Henry James, Herman Melville, William Morris, Edgar Allan Poe (incl. early and fine press editions of works such as The Raven), Robert Louis Stevenson, Harriet Beecher Stowe, Henry D. Thoreau, Mark Twain. Also, associated manuscript collections such as the Ward-Perkins Collection (incl. correspondence with James Russell Lowell, Amy Lowell, George Bancroft, Ralph Waldo Emerson, Henry and William James, George Santayana, and Theodore Roosevelt). Also, some individual manuscript items, including correspondence, for authors such as Robert Browning, Samuel L. Clemens (Mark Twain), Samuel Taylor Coleridge, Ralph Waldo Emerson, Harriet Beecher Stowe, Henry D. Thoreau, and H. G. Wells.
Literature – 20th century. First, signed, and limited editions, with particular strengths for American and British authors, especially those with California associations. Extensive holdings for Charles Bukowski (John Martin/Black Sparrow Press), Concrete Poetry, William Everson, Aldous Huxley, Christopher Isherwood, Robinson Jeffers, D. H. Lawrence, W. Somerset Maugham (Toole-Stott Collection), Henry Miller (Philip Peatman Collection), Christopher Morley (Bob Bason Collection), Ezra Pound. Holdings include a number of associated manuscript collections relating to Charles Bukowski (Bukowski and John Martin collections), Tom Clark, Robinson Jeffers (Armstrong/Jeffers Collection), Pound (John Richmond Theobald and Elizabeth Schneider collections). Also several hundred small collections of individual or small groups of manuscripts, with correspondence relating to authors such as Ray Bradbury, William Everson, F. Scott Fitzgerald, Oliver Wendell Holmes, Aldous Huxley, Christopher Isherwood, Archibald MacLeish, Thomas Mann, W. Somerset Maugham, Henry Miller, A. Edward Newton (book collector), George Bernard Shaw, Wallace Stegner, H. G. Wells, and Tennessee Williams.
World War II. Includes the James Stuart Beddie Collection (scholar and Foreign Service officer, who worked on the post-WWII German War Documents Project), G. William Gahagan (propaganda used both in the Pacific and Atlantic theaters during WWII), Eugene Davidson Collection (historical works on 20th century Germany, Adolf Hitler, Nuremberg Trials, and Cold War), Bruce C. Hopper (academic, military historian, and O.S.S. observer in Sweden during WWII).
Wyles [William] Collection. The first UCSB 'special collection,' and still one of the largest, with more than 35,000 volumes on Abraham Lincoln, slavery, abolition, the Civil War, American expansion, travel in America, and the American West. Also, more than 100 separate manuscript collections and 800 small collections, with correspondence, diaries, and photos of individuals and families, many with Civil War connections, and records of Civil War military units. Includes Civil War Diaries, Civil War Muster Rolls, Confederate Collection (correspondence, documents, autographs, photographs, engravings, currency, stamps, song sheets), Daughters of Union Veterans, 1st South Carolina/33rd U. S. Colored Troops (records, ca. 1861-1865), Gold Rush Sermons (from the Sonora California area, 1852-1863), Campbell Grant (patriotic Civil War covers), Mortimer Leggett (correspondence and documents of a Civil War general), Farnham Lyon (correspondence from Libbie Custer), Jay Monaghan (correspondence and files relating to research and writings of a Lincoln, Civil War, and western history scholar, and longtime consultant to the Wyles Collection), Isaac Shepard (ranking Civil War officer for Colored Troops), and Slave Documents (bills of sale, manumission papers, and other, ca. 1711-1878) collections. Also some individual manuscript items relating to U.S. presidents, generals, and other important figures such as Jefferson Davis, Ulysses S. Grant, Stonewall Jackson, Robert E. Lee, Abraham Lincoln, and William Tecumseh Sherman.
For information on manuscript collections please contact the Special Collections reading room at (805) 893-3062 or at special [at] library [dot] ucsb [dot] edu