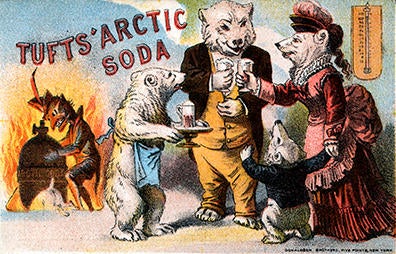 Almanacs and Works about Time. Primarily early American items such as the Astronomical Diary… (1759+), New England Almanack (1789+), Farmer's Almanack (1800+), New England Anti-Slavery Almanac (1841), Affleck's Southern Rural Almanac… (1851), and the California State Almanac and Annual Register (1856). Also, the Almanach de Gotha, a genealogical, diplomatic, and statistical gazetteer for all countries of the world (1800-1944). An associated manuscript collection, the Donald C. Davidson Collection, focuses on concepts and writings about time. The Davidson endowment has funded acquisition of many of these works.
Bibles. Early copies, many with extensive illuminations, from the mid-13c, including the 'Santa Barbara Bible' (ca. 1250), Biblia Latina (ca. 1297), Biblia sacra latina (1350); A Noble Fragment, being a Leaf of the Gutenberg Bible, 1450-1455…; Coverdale Bible, 1535 (first complete bible in English; gift of C. Pardee Erdman); several other 15th-18th century bibles, and the Greek New Testaments Collection (primarily 16th-17th century). Facsimile editions of early works include The Lorsch Gospels (ca. 810), the Wenzelsbiblel (ca. 1400), and The Beginning of the New Testament Translated by William Tyndale (1525). Also, modern fine press editions such as the Doves Bible (1903-1905) and the Pennyroyal Caxton Bible, designed and illustrated by Barry Moser (1999). Other manuscript holdings include the Isaac Foot Collection (with bible leaves, ca. 1530-1611), Medieval Manuscript Fragments (with leaves from bibles, devotional books, scholars' texts, liturgical musical texts, and texts of religious readings, 9th-15th centuries), Original Leaves from Famous Bibles: Nine Centuries 1121-1935… collected and annotated by Otto F. Ege, and "Biblical Library of Stanley S. Slotkin," with 30 original leaves and accompanying printed text for 16th-18th century bibles and other religious works. Also, related reference works on early bibles.
Early Works - Ancient / Classical. Mainly Greek and Latin editions, from the 15th century onwards, by Aristotle (Trattato dei governi …, ca. 1549), Augustine (Tabula Diui Aurelii Augustini in Librum Psalmorum, 1493), Julius Caesar (Commentaries, 1543), Cicero (Epistolaru …, 1536), Ovid (Amatoria, 1536), Demosthenes, Euripides, Homer, Horace, Juvenal, Lucretius, Virgil, and others. Also, a number of fine press editions of classical writers, and examples of early writing such as Sumerian clay tablets, ca. 2000 BC.
Early Works – Medieval to 17th Century. Holdings include a number of important works such as the 'Santa Barbara Bible' (ca. 1250), Biblia Latina (ca. 1297), Biblia sacra latina (1350), medieval illuminated manuscript leaves (ca. 10th-16th centuries), Gutenberg Bible leaves (ca. 1454-1455), the Nuremberg Chronicle (1493), a 15th century French Book of Hours, several incunabula (e.g. Austinus de Ancona, Summa de postestate ecclesiastica, 1473), Greek New Testaments (ca. 16th-19th centuries), Holinshed's Chronicles (a source for William Shakespeare's historical plays - 1587), William Shakespeare's Merry Wives of Windsor (1602). Also, early editions of works by authors such as Dante Alighieri, St. Augustine (Tabula Diui Aurelii Augustini in Librum Psalmorum, 1493), Francis Bacon (The Historie of the Raigne of Keng Henry the Seventh, 1622), John Bunyan (A Book for Boys and Girls …, 1686), Desiderius Erasmus, Moliere, and Francois Rabelais (Oeuvres, 1558), as well as limited facsimile editions of milestones in the history of the book, such as the Book of Kells (ca. 800), Domesday Book (1086), and the Ellesmere Chaucer (ca. 1400-1405).
Early Works – 18th Century. First and early editions for authors such as James Boswell (incl. The Journal of a Tour to the Hebrides with Samuel Johnson, 1785), Daniel Defoe, Denis Diderot (Encyclopedie, 1755-1780), Benjamin Franklin (Political, Miscellaneous, and Philosophical Pieces, 1779), John Gay (Beggar's Opera, 1791 ed; also scrapbookof theatrical productions from the time), Oliver Goldsmith (Vicar of Wakefield, 1773 ed), Samuel Johnson (incl. his Dictionary, 1755), Isaac Newton (incl. Chronology of Ancient Kingdoms Amended, 1728), Alexander Pope, Friedrich Schiller, Jonathan Swift (incl. A Tale of a Tub, 1704), Voltaire (incl. Epitres, satires, contes, odes, et pieces fugitives, 1771), John Wesley, and Mary Wollstonecraft (incl. A Vindication of the Rights of Woman …, 1792). Some manuscript material from the time period, including the Ballitore Collection (mainly papers of the Shackleton and Leadbetter Quaker families of Ballitore, Ireland, incl. Edmund Burke correspondence).
Fine Presses. Very limited editions, often with handmade papers, unique illustrations, and fine, decorated bindings. Primarily 19th and 20th century British and U.S. presses. Notable examples include John Dryden (transl.), Fables from Boccaccio and Chaucer (Chiswick Press, 1822); the Doves Bible, (Doves Press, 1903-1905); Ted Hughes, Howls and Whispers, ltd. ed., no. 23 of 110 (Gehenna Press, 1998), Emily Dickinson, Compound Frame: Seven Poems, ltd. ed., no. 56 of 120 (Janus Press, 1998); William Morris, Gothic Architecture… (Kelmscott Press, 1893); Dard Hunter, Primitive Papermaking (Mountain House Press, 1927); Jose Montoya, el sol y los de abajo, ltd. ed., no. 96 of 195 (Ninja Press, 1992); Pennyroyal Caxton Holy Bible, ltd. ed, no. 58 of 400, designed and illustrated by Barry Moser (1999), 33 1/3: Off the Record (Edition Reese, 2000).
Literature – 19th Century. First, limited, and early editions, with particular strengths for American and British authors such as Louisa May Alcott, Charlotte and Emily Bronte, Lewis Carroll (incl. 1866 edition and 1969 Salvador Dali edition of Alice's Adventures in Wonderland), Stephen Crane, Richard Henry Dana (whose mid-19th century Two Years before the Mast includes Santa Barbara observations), Charles Dickens (incl. first, early, and fine press editions of works such as David Copperfield, 1850), Frederick Douglass (incl. Narrative of the Life of Frederick Douglass: An American Slave, 1846), Ralph Waldo Emerson, Thomas Hardy, Henry James, Herman Melville, William Morris, Edgar Allan Poe (incl. early and fine press editions of works such as The Raven), Robert Louis Stevenson, Harriet Beecher Stowe, Henry D. Thoreau, Mark Twain. Also, associated manuscript collections such as the Ward-Perkins Collection (incl. correspondence with James Russell Lowell, Amy Lowell, George Bancroft, Ralph Waldo Emerson, Henry and William James, George Santayana, and Theodore Roosevelt). Also, some individual manuscript items, including correspondence, for authors such as Robert Browning, Samuel L. Clemens (Mark Twain), Samuel Taylor Coleridge, Ralph Waldo Emerson, Harriet Beecher Stowe, Henry D. Thoreau, and H. G. Wells.
Literature – 20th century. First, signed, and limited editions, with particular strengths for American and British authors, especially those with California associations. Extensive holdings for Charles Bukowski (John Martin/Black Sparrow Press), Concrete Poetry, William Everson, Aldous Huxley, Christopher Isherwood, Robinson Jeffers, D. H. Lawrence, W. Somerset Maugham (Toole-Stott Collection), Henry Miller (Philip Peatman Collection), Christopher Morley (Bob Bason Collection), Ezra Pound. Holdings include a number of associated manuscript collections relating to Charles Bukowski (Bukowski and John Martin collections), Tom Clark, Robinson Jeffers (Armstrong/Jeffers Collection), Pound (John Richmond Theobald and Elizabeth Schneider collections). Also several hundred small collections of individual or small groups of manuscripts, with correspondence relating to authors such as Ray Bradbury, William Everson, F. Scott Fitzgerald, Oliver Wendell Holmes, Aldous Huxley, Christopher Isherwood, Archibald MacLeish, Thomas Mann, W. Somerset Maugham, Henry Miller, A. Edward Newton (book collector), George Bernard Shaw, Wallace Stegner, H. G. Wells, and Tennessee Williams.
Maps / Atlases. Early 16th-18th century maps by European cartographers such as Blaeu, Jansson, and Mercator (John and Peggy Maximus Collection). Also atlases such as Robert Morden, Geography Rectified… (1693). Other early maps and atlases of North America and California, and 19th century maps depicting the Civil War and U.S. expansion (mainly Wyles Collection).
Newspapers. 18th-19th century European and American newspapers (individual issues and short runs), with an emphasis on the Civil War era, as well as early Santa Barbara newspapers, and 1960s-1970s alternative newspapers (mainly U.S.).
Pamphlet Collections. Includes French Revolution Pamphlets (more than 2,000 items, mainly 1780s-1790s) and Radical Pamphlets (primarily U.S., ca. 1960s-1970s) collections.
Photographs. More than 100,000 photographs, found in numerous collections and covering a wide range of subjects. Most are black and white prints from the late 19th to latter 20th centuries, but there also are some earlier daguerreotypes, tintypes, ambrotypes, and cyanotypes, as well as later color prints and slides. Major subject areas include: Africa [Sub-Saharan], California, Civil War [U.S.], East Asia and Pacific Islands, Ethnic Groups in California, Europe, Latin America and the Caribbean, Abraham Lincoln, North Africa and the Middle East, Prominent Individuals, Santa Barbara Area, Southwest Asia, UCSB and Isla Vista, The West [U.S.], World War I, and World War II.
Santa Barbara Authors & Publishers. Signed and first editions of hundreds of past and present authors with local connections, such as Edgar Bowers, T. Coraghessan Boyle, Raymond Carver, Barnaby Conrad, George Dangerfield, Eugene Davidson, Gretel Ehrlich, Clifton Fadiman, J. F. Freedman, John Galsworthy, William Campbell Gault, Father Maynard J. Geiger, Sue Grafton, Pico Iyer, Hugh Kenner, Robert Kirsch, David Lavender, Dennis and Gayle Lynds, Kenneth and Margaret Millar, David Myrick, and Remi Nadeau. Also, papers relating to Richard Barre (mysteries), Tom Clark, Robert O. Easton (western fiction and 1969 Santa Barbara Oil Spill), J. F. Freedman (mysteries), Steven Gilbar (literary Santa Barbara), Dennis Lynds (detective fiction), Harry McGuire (magazine editor and publisher), Kenneth Pai, Donald Culross and Louise Redfield Peattie, John Ridland collection and papers (poetry), John Sanford, Walker Tompkins (local history and pulp westerns), Richard Howells Watkins (boys' books and adventure stories), Peter Whigham, and others.
Santa Barbara Contemporary Issues Collections. Papers of 20th century local officials, legislators, organizations, and individuals such as Robert O. Easton (oil spill, wilderness), Fred Eissler (airport, flood control, transportation), Robert A. English (war in Vietnam), Get Oil Out (GOO), Don Hamilton (homeless), Gary K. Hart (state legislator – education, energy, families, housing, medical/health, natural resources, public assistance, taxes, and transportation), Lee Moldaver (public transit), Patrick J. Maher (Santa Barbara mayor), Nuclear Age Peace Foundation, Oil Spill Information Center, Omer Rains (state legislator – criminal justice, environment, health, political reform), Alice B. Rypins (water), Santa Barbara League of Women Voters, Robert C. Sharp (oil), Patricia Shewczyk (water), Robert Sollen (oil), Harriette Von Breton (oil), and Richard Whitehead (land use and planning).
Trade Catalogs. The Lawrence B. Romaine Trade Catalog Collection contains more than 50,000 items, primarily 19th and early 20th century American trade and advertising literature, with large sections relating to a subjects such as agriculture, architecture, booksellers, building materials, department stores, electrical equipment, hardware, printers' supplies, scientific and industrial instruments, and seed catalogs. There are additional related records for Romaine's bookselling business, Weathercock House. Smaller numbers of trade catalogs in the Larry Badash, Die Cut Advertising Literature, and James C. Williams collections. Also, the American Religions Collection includes mid-latter 20th century catalogs of publications and religious goods for and by various religious groups, and the Sound Recording Catalog Collection contains lists and other publications from the early 20th century by numerous recording companies, mainly U.S.
Western Americana and Californiana. Extensive holdings of printed materials, many in the Wyles Collection, but also including the J. J. Mitchell, Ruth Comfort Mitchell (California writer), and Charles Snow (prolific blind California author of westerns) collections.
World War I. Books and manuscripts (records of individual units government documents, photographs, scrapbooks, maps, pamphlets, and serials) in the Great War Collection. Also manuscript collections such as the Louis deKeyser Belden Papers (correspondence, documents, photographs, and ephemera of a surgeon and Captain in the Medical Corps), Thomas Driscoll Collection (contains correspondence, documents - including intelligence reports, maps, pamphlets, photographs, and posters of a Lt. Colonel and Division Intelligence Officer in the U.S. Army's 91st Division), Charles Montgomery Hathaway Collection (American academic and diplomat, with service in the Dominican Republic, England, Ireland, Budapest, Bombay, and Germany, ca. 1912-1939).
World War II. Includes the James Stuart Beddie Collection (scholar and Foreign Service officer, who worked on the post-WWII German War Documents Project), G. William Gahagan (propaganda used both in the Pacific and Atlantic theaters during WWII), Eugene Davidson Collection (historical works on 20th century Germany, Adolf Hitler, Nuremberg Trials, and Cold War), Bruce C. Hopper (academic, military historian, and O.S.S. observer in Sweden during WWII).
For information on manuscript collections please contact the Special Collections reading room at special [at] library [dot] ucsb [dot] edu or (805) 893-3062.