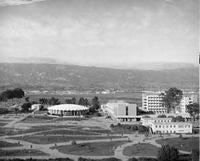 The UCSB University Archives, housed in the Department of Special Collections, contains official university records of permanent value and other materials documenting the development of the institution, including papers of faculty and administrators.
Early Records of Predecessor Institutions. Materials relating to the pre-Goleta campus years of UCSB, including Anna Blake Manual Training School, Santa Barbara State College, and Santa Barbara College of the University of California.
Faculty, Administrators, and Staff Papers. Includes papers of Herbert P. Broida (physics), George I. Brown (confluent education), Vernon Cheadle (UCSB Chancellor), Preston Cloud (geology, ecosystems, and natural resources), Donald C. Davidson (University Librarian), Katherine Esau (biology), Richard Exner (German literature), Robert Freeman (musicology), Garrett Hardin (biology, population, and ecology), Wilbur R. Jacobs (frontier and western history), Walter Kohn (Nobel Prize winner, Chemistry, 1998), Robert Kelley (history, public policy), Kenneth Pai (Chinese literature), Philip W. Powell (15th and 16th century Spanish and Mexican history), and Lawrence Willson (English, Thoreau scholar).
Official Records of the University. Records of permanent historical value from administrative offices, departments, centers, and programs across the campus. Includes Academic Senate records, the Public Information Office's Biographical Files (primarily information for earlier faculty and administrators), and both the Public Information Office's and Associated Students' Subject Files.
University Periodical Publications. Holdings include titles such as 93106, Campus Directory, Coastlines, Daily Nexus (and predecessor student newspapers such as El Gaucho), Faculty Notes, General Catalog, In Memoriam, La Cumbre (yearbook), Schedule of Classes, Soundings, Spectrum, UCSB Alumni Directory, UCSB Financial Report.