These instructions will teach you how to make a Reading Room request. This can be done at home, your office, on your phone, or on-site at the service desk - from anywhere on any device that has an internet connection.
1. Go to the Special Collections Research Account log-on page: http://researchspecial.library.ucsb.edu/logon/ and choose either the UC Santa Barbara current affiliates button or the non-affiliates button.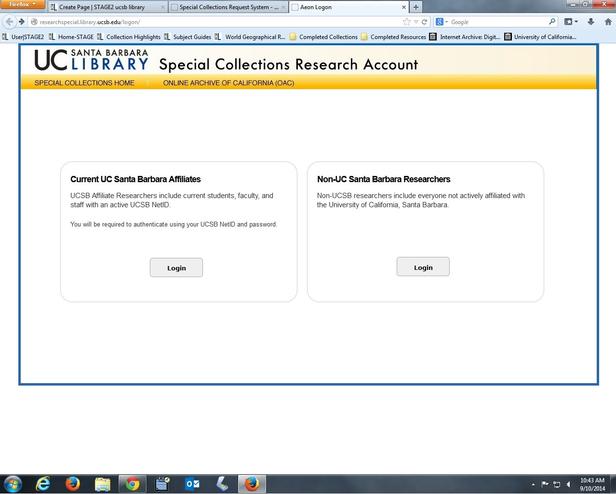 2. Current UC Santa Barbara affiliates will be prompted to use their NetID to create their Special Collections Research Account.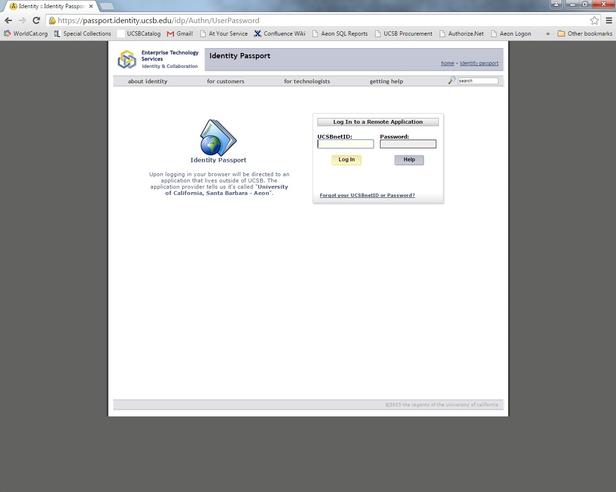 3. Non-affiliates will have to click on the First Time Users link.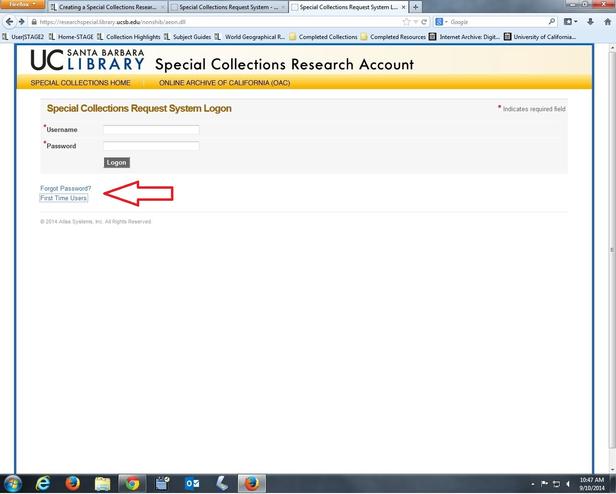 4. Both Affiliates and Non-Affiliates will have to agree to terms and conditions and continue to fill out the registration form to submit.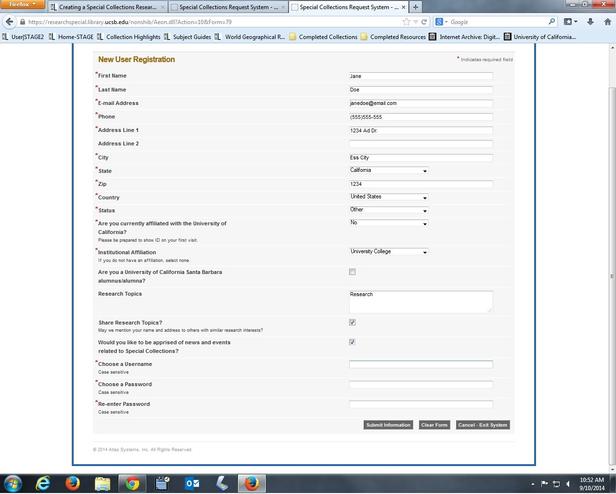 Now you can submit requests. There are many ways to submit a request to use items at the Department of Special Research Collections. Below we outline the best way to submit your request.
5. Once you create your Research Account you can submit a request from within the system by clicking on the Library Catalog button found on the left hand side of the homepage.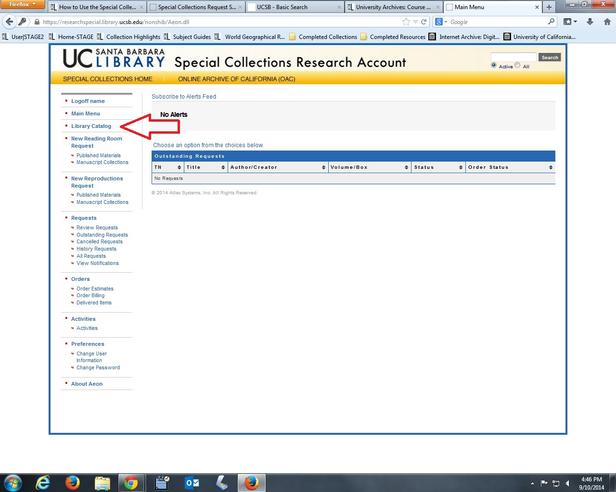 6. Locate the item on the UC Santa Barbara library catalog. You can use the 'Advanced Search' to narrow down your results by location, "Special Collections". Please be aware that you can only request materials that are in Special Collections for reading room use or for reproductions. Main Library items cannot be requested using this account.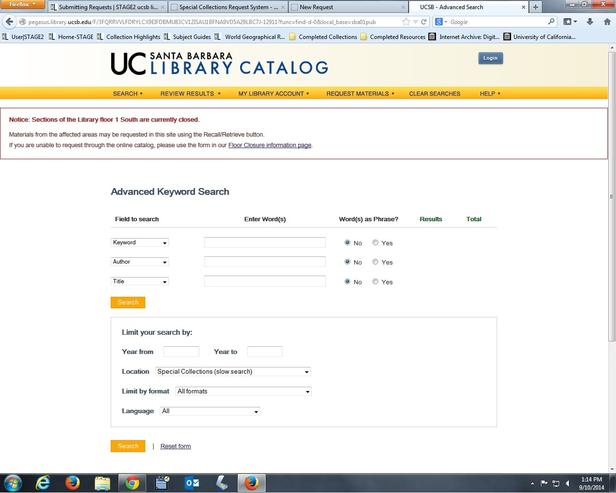 7. Locate the desired book, serial, recording, etc. and click on the call number link. The beginning of the call number should say "Special Coll." If it indicates other locations, such as "Sciences Engineering Library," "SEL," or just "Main Library," it is not an item you can request using the Special Collections Research Account.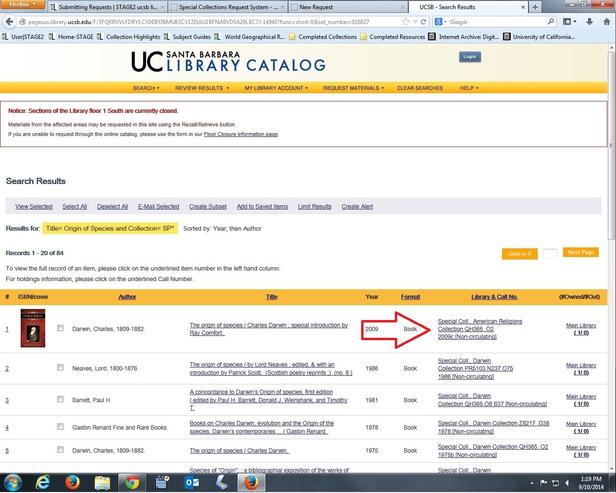 8. Once you are in the holdings page you can find the Special Collections Request button.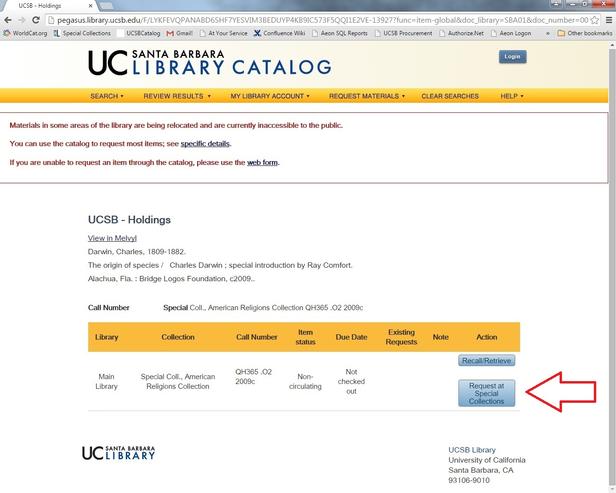 9. You will be prompted to login again to confirm your identity. After logging in you will see a New Request form populated with the information from the item record.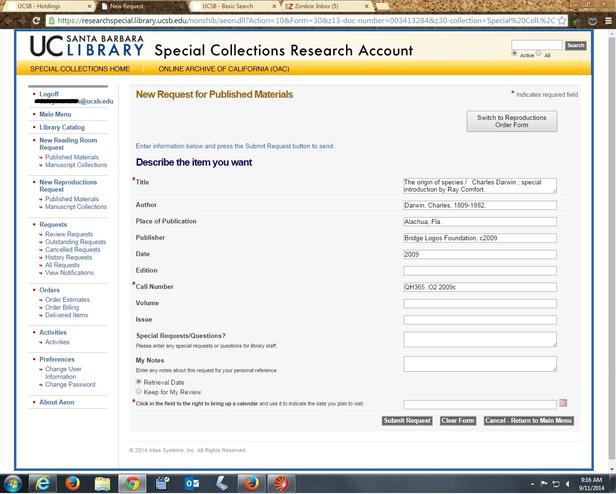 10. You can include additional questions or requests for library staff in the "Special Requests/Questions?" section or include your own notes regarding this item in the "My Notes" section. You will be asked to include a "Retrieval Date" that should indicate the date that you plan to visit to use the items at our Reading Room. You can also keep the item for "My Review" which will keep the record in your requests but will not be submitted for processing.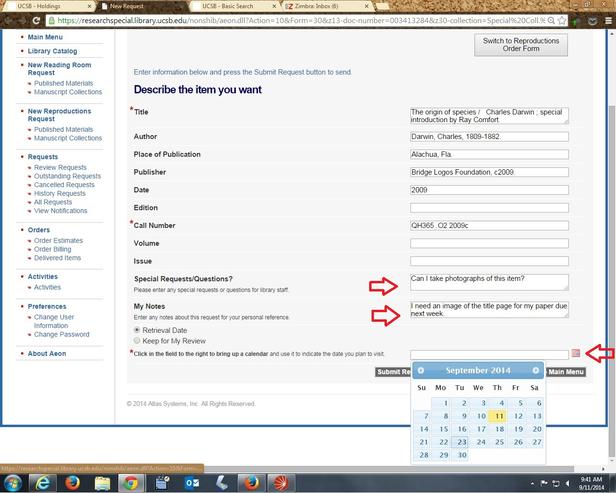 11. Once you press submit, staff will receive a notification about this request. You will see that the status is "Awaiting Request Processing." This will change as staff process your request. Take note of the "TN" number on the left hand side - we can use this number, along with your name, to pull up your request once you arrive at the Reading Room or for assistance over the phone.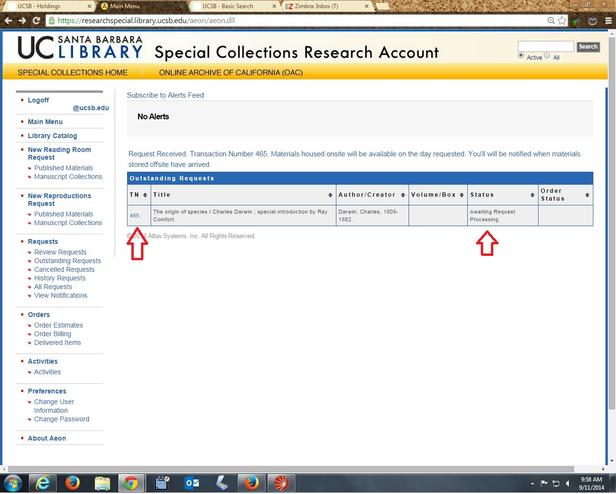 12. If you click on the highlighted TN number you can access the complete record of your request and see if your item has been placed on hold or still in item retrieval.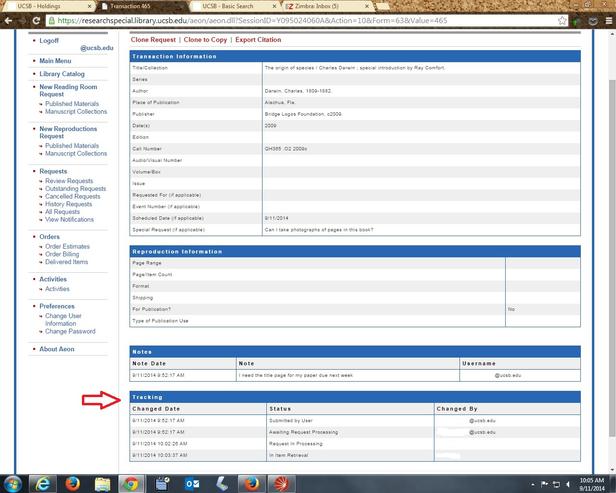 13. When you arrive at the Special Research Collections reading room, you will be asked to present proper identification in order to allow staff to sign you in and retrieve items on hold.