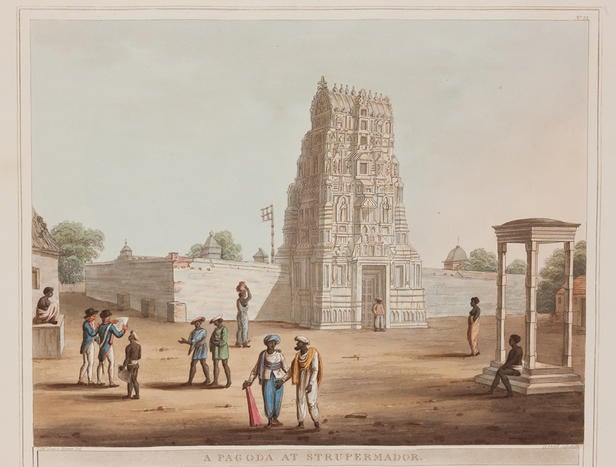 ---
James Mill, The History of British India. London: Baldwin, Cradock, and Joy, 1826.
James Mill (1773-1836), father of John Stuart Mill, was a Scottish philosopher and friend and disciple of Jeremy Bentham. He ardently subscribed to Bentham's utilitarian philosophy and his works are colored by this influence. In 1806 Mill began writing his history of British India, despite having never traveled to the subcontinent and having an elementary acquaintance with the languages of the east. Mill assembled the six-volume history by collecting heterogeneous bits of information about India from other sources. The work took eleven years to complete and received great acclaim in England upon publication. It was so successful that it earned Mill an appointment with the East India Company.
Mill's History was essential to the creation of the ideological division between Britain and India in terms of progress and civilization. It depicted India as a vacant and stagnant place with a civilization that was steadily declining. As the colonizing mission progressed, the British used Mill's representation as evidence that India and its people had not reached its proper historical maturation and so could not participate in representational government, which ensured freedom and rights.
Sara Miller McCune Collection
---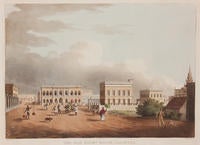 Francis William Blagdon, A Brief History of Ancient and Modern India. London: Edward Orme, 1805.
Francis William Blagdon's (1778-1819) A Brief History of Ancient and Modern India is a visual history of India that features sixty-six of Edward Orme's aquatint engravings after paintings from William Daniell, Francis Swain Ward, and Lieutenant James Hunter. Images of pre-British India are contrasted with images of the newly built British India. This dichotomy provided British audiences with a representation of the exoticness of India and demonstrated the prowess of British colonialism. India histories such as Blagdon's were becoming more and more common around the turn of the century. Written and visual histories were ontological tools that enforced colonial assumptions about different societies and cultures. In the case of Blagdon's history the reader acquired knowledge about the declining position of native Indian society, through the observation of romantic picturesque imagery.
Sara Miller McCune Collection
---
< Previous | Online Exhibition Home | Next >