UCSB Library (Special Collections, 3rd floor)
July 1 - December 15, 2013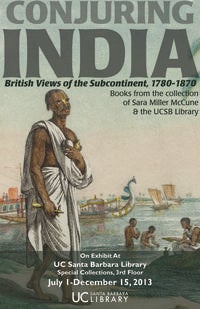 The allure of India has long captivated the imagination of the Western world, attracting travelers and merchants to Indian shores during the age of exploration. Between 1780 and 1870, a diverse group of Britishers found the Indian subcontinent a fertile ground for imagining and producing a range of visions of empire. Conjuring India: British Views of the Subcontinent, 1780-1870 explores these varied representations of India. The exhibit offers a rare opportunity to examine books from the collection of Sara Miller McCune, as well as from the UC Santa Barbara Library that capture not only the diversity of British visions of India, but also the divergent perspectives of the colonial experience of India.