UCSB Library Special Collections (Third Floor)
September 2014 - January 2015
This exhibition draws from a wide range of items in Special Collections that relate to the African continent. Included are maps from as early as the 17th century and numerous photograph collections dating back to the latter 19th century, as well as artists' books, early editions of books by African writers, diaries, documents, manuscripts, music, and travellers' accounts. Also in the exhibition are items from the collection of David C. Tambo, retired Head of Special Collections.
---
An Artist Looks at his African Heritage
UCSB Arts Library Lobby (First Floor)
September 2014 - January 2015
This exhibition showcases works of printmaker Amos Kennedy focusing on the African mask tradition.
This exhibition is presented in conjunction with Images of Africa, the current exhibition in Special Collections.
---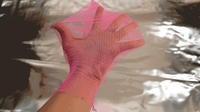 Wireless Art Network
UCSB Library (Second Floor)
Ongoing
The Library is currently the location for a site-specific digital exhibition created by former UCSB students Raymond Douglas and Chris Silva. Installed at the top of the circular stairs on the second floor of Davidson Library is a network device that enables visitors in the vicinity to view art on their computers and mobile devices. Just look for the network ID called "Art Network." Currently the network is exhibiting animated work by UCSB student Angie Shen. Angie is a 4th year book arts major in the College of Creative Studies.