UCSB Library (Third Floor Gallery)
April 14 - August 29, 2014

This exhibition highlights the life of performer, producer, and director Dan Guerrero, who Hispanic magazine recognized as "one of the 25 most powerful Latinos in Hollywood." The photographs are drawn from the Library's California Ethnic & Multicultural Archives and document Guerrero's life as a young singer/dancer in New York's Broadway musicals, his work as a talent agent, and his Chicano activist days in support of Cesar Chavez's farm worker movement.
---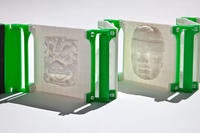 Orihon (3D Printed Artist Book) by Tom Burtonwood
UCSB Arts Library Lobby (First Floor)
June 4 - Mid-September, 2014

Tom Burtonwood's Orihon (2014), a 3D printed accordion-fold volume contains scans of ancient sculptural objects. It is the world's first completely 3D printed accordion-fold artists book. From the artist's website: "I have been thinking for some time how it would be nice to produce a 3D printed book of textures and reliefs. To publish and distribute all the wonderful architectural patterning and decoration we enjoy here in Chicago and beyond. This is the prototype for that idea." Orihon is held in the Library's Department of Special Collections (call number:Printers Collection Z239.B57 .B87 2014). The UCSB Library has a significant and varied artists' book collection.
---
UCSB Library (Second Floor)
Ongoing
The Library is currently the location for a site-specific digital exhibition created by former UCSB students Raymond Douglas and Chris Silva. Installed at the top of the circular stairs on the second floor of Davidson Library is a network device that enables visitors in the vicinity to view art on their computers and mobile devices. Just look for the network ID called "Art Network." Currently the network is exhibiting animated work by UCSB student Angie Shen. Angie is a 4th year book arts major in the College of Creative Studies.