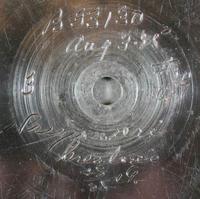 Papers and collection of band historian and record collector Frederick P. Williams. Williams collected early band records (78s and cylinders)—primarily acoustically recorded concert and military band recordings from around the world. He also assembled a large collection of research materials on many famous early bands (Sousa, Pryor, etc) as well as the lesser known "ethnic" bands led by Giuseppe Creatore and others. The finding guide to these research materials and other items is available on the Online Archive of California.
The collection of 78rpm discs numbers between 25,000-30,000 items and is being cataloged in the library's online catalog. Information on access to the recordings in the collection can be found here.
The 2,500 cylinders from his collection are being cataloged (and will eventually be digitized) through the UCSB Cylinder Audio Archive.
Photographs of the collection and its transport from Philadelphia to Santa Barbara can be found here.