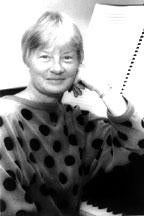 Personal papers of composer, organist, and emeritus professor of composition at UCSB. Born in Kansas City, Missouri in 1927, Diemer began composing at an early age and later studied composition at Yale and the Eastman School. Her teachers included Hindemith, Bernard Rogers, Hanson, Toch, and Sessions.
The collection includes many of her manuscript scores, business correspondence and royalty statements, programs, reviews, and clippings. Many of Diemer's published scores are available at the UCSB Arts Library. The inventory for the collection is available on the Online Archive of California.
Diemer taught composition at UCSB from 1971 to 1991 and founded the school's electronic music studio. A prolific and virtuosic composer, she is the recipient of both NEA and Fullbright fellowships, ASCAP Standard Awards, a Kennedy Center Friedheim Award, and the 1995 AGO Composer of the Year Award. She continues to receive numerous commissions as well as give recitals.
The following website on Emma Lou Diemer may be of interest: