The Edouard Pecourt Collection is an extraordinarily rich collection documenting many areas of 20th-century music history, including Astor Piazzolla and the Argentine tango, Latin American music, and the early French sound recording industry.
Born in Montmartre, Paris, France, Edouard Pecourt (1925-2008) lived in France until 1986, when he married American Jocelyn Howells and moved to Portland, Oregon. From 1954 until the move, Pecourt ran La Boîte à Disques at 58 bis Rue du Louvre in Paris, where he sold antique phonographs, records, and postcards. In Paris, Pecourt imported many tango recordings from South America and worked as a record consultant for the Odeon record company. Pecourt was a friend of Astor Piazzolla, Eduardo Falú, and other well known tango artists and composers. He was a world-renowned historian, archivist, discographer, and collector of all things related to tango music and dance. Like many dealer/collectors, he both bought and sold, keeping the best for himself. In this case, the best ended up in his tango collection, numbering over 9,000 78rpm discs. His goal was comprehensiveness, and in some areas—such as the recordings of Carlos Gardel—he achieved it.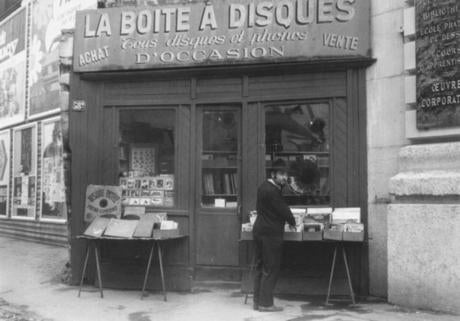 Acquired by the UCSB Library in 2010 and 2013, the collection contains:
3,000 French cylinder recordings. Many have been cataloged and digitized as part of the UCSB Cylinder Audio Archive. Pecourt's extraordinary collection of cylinders, almost all French repertoire from the turn of the 20th century, includes hundreds of cylinders issued by Pathé, including salon and concert (stentor) sizes; hundreds recorded by smaller companies such as Cylindres Dutreih, Société Francaise des Cylindres Artistiques, Phenix, and other French companies; and hundreds of cylinders made by the French divisions of Edison and Columbia Records. There are nearly 1,000 brown wax cylinders in the collection (mostly yet uncataloged).
18,000 78rpm disc recordings, primarily French, but also European issues of American jazz and Latin American popular music. Portions of the collection have been cataloged with the support of the Council on Library and Information Resources "Hidden Collections" program funded by the Andrew W. Mellow Foundation. To find recordings from the Pecourt collection that have been cataloged, check the UCSB Library catalog. Researchers can obtain study copies of recordings through the Special Collections request system.
 

10,000 Argentine tango 78 rpm discs and other Latin American reocrdings, including Argentine folklórico and Cuban and Puerto Rican recordings. Cataloging of this portion of the collection is in progress.
Manuscript and ephemeral material relating to the Argentine tango and related genres. This portion of the collection comprises the Edouard Pecourt Tango and Latin American Music Collection. For a description and inventory of the collection, consult the finding guide in the Online Archive of California (OAC).
Supporting material including LPs, CDs, 45s, sheet music, trade catalogs, books, and serials. Portions of the books and serials have been processed and are cataloged in the UCSB Library catalog. LPs, CDs, 45s, and sheet music are currently unprocessed.
For more information on the collection or assistance in using the materials, please contact the special [at] library [dot] ucsb [dot] edu (Special Collections staff).