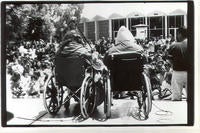 Hungry for Justice: Student Activism and the Struggle for Dignity in the 1980s and 1990s is a new display on view in the Library's 2nd floor Ethnic and Gender Studies Library. The display explores two hunger strikes that took place at UCSB in 1989 and 1994. The first strike was in response to claims by a multiracial coalition of students and faculty that institutionalized racism and sexism still existed on campus. Twelve days passed before a mostly positive settlement was reached.
The 1994 strike involved nine Chicana/o, Latina/o undergraduate students who were members of the UCSB student group, El Congreso. Among their demands, they called for lower student fees, more funding for recruiting and retaining eligible Chicano/Latino students from the surrounding tri-county region, a community center in Isla Vista, more Chicano Studies faculty and a doctoral program, a ban on table grapes, and retention and renaming of Building 406. Increased support for the UCSB Library's Colección Tloque Nahuaque was also one of their demands. The 1994 protest lasted 10 days. It was largely effective, as 25% of the campus undergraduate student body is now Latina/o and a doctoral program in Chicana/o Studies was created.
This display is a joint project of Professor Ralph Armbruster-Sandoval, Rosie Bermudez, Salvador Güereña (director, UCSB Library's California Ethnic & Multicultural Archives), Jacqueline Partida, and Eva Rios-Alvarado.