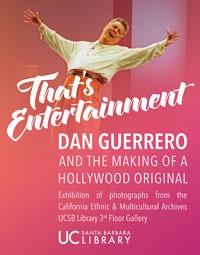 The Library is excited to host Dan Guerrero for a free public talk in the Library's Mary Cheadle Room (3rd floor). The talk is in conjunction with the photographic exhibition That's Entertainment: Dan Guerrero and the Making of a Hollywood Original currently on display in the Library's Third Floor Gallery.
From Mariachi to Merman, Sondheim to Cesar Chavez, Guerrero begins his remarkable life journey in the 1950s in East LA. The son of legendary musician Lalo Guerrero, Dan Guerrero becomes a song and dance man in New York City during the swinging '60s and disco '70s before returning to Hollywood as an award-winning television producer turned Chicano activist. It is in Hollywood where Guerrero writes and performs his solo show ¡Gaytino! and adds LGBT activist to his resume.
On May 15th at 8pm Guerrero will perform ¡Gaytino! in UCSB's Multicultural Center.
For questions, or for more information, please contact: Rebecca Metzger at 805-893-2674 or rmetzger [at] library [dot] ucsb [dot] edu.