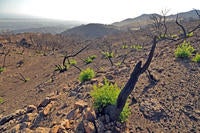 The UCSB Library is pleased to present a new exhibition on wildfire by Santa Barbara artist Ethan Turpin. Burn Cycle was commissioned jointly by the Library and the Bren School of Environmental Science and Management in conjunction with the 2014 UCSB Reads book The Big Burn: Teddy Roosevelt and the Fire that Saved America.
"I've chosen works that speak to the elemental phenomenon of wildfires and their ability to transform the environment rapidly, often after being dormant for decades," said Turpin. The exhibition tells the story through a variety of materials, including pieces from the Library's Department of Special Collections as well as from its Map and Imagery Laboratory. It looks at the aftermath of wildfire from the air to show the entire scope of its damage, and also at individual tragedies on the ground, with artifacts from recent fires.
On exhibit on the Library's first floor through May 2014
Turpin will talk about his exhibition at the Library on February 19th at 4pm. Mary Cheadle Room, third floor. Reception to follow.