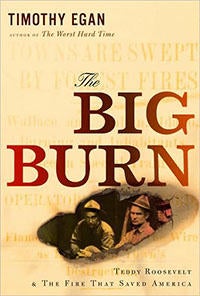 The UCSB Library and the Office of the Executive Vice Chancellor are excited to announce the selection of a book for UCSB Reads 2014: The Big Burn: Teddy Roosevelt and the Fire that Saved America (Mariner Books, 2010) by Timothy Egan. Through a common reading experience, UCSB Reads brings the campus and Santa Barbara community together in intellectually stimulating dialogue about important issues of our time. Award-winning author Timothy Egan will offer a free public lecture in Campbell Hall on March 4, 2014.

"The Big Burn" is the story of the 1910 wildfire that burned more than three million acres in two days across the national forests of Washington, Idaho, and Montana. Egan's account of the nation's largest wildfire is interwoven into the equally-dramatic story of President Teddy Roosevelt's efforts, along with chief forester Gifford Pinchot, to fight the destruction of the country's natural resources. Set against the backdrop of the fire, Egan chronicles the social, cultural, and political history that led to the formation of the U.S. Forest Service. Pioneers in this new notion of conservation, Roosevelt and Pinchot created the idea of public land as our national treasure, owned by and preserved for every citizen.

UCSB Reads 2014 is being presented in conjunction with the Bren School's Strategic Environmental Research Initiative on Wildfire and Climate Change, which is bringing faculty together from various disciplines to generate new approaches to fire management.