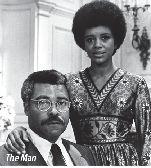 On Tuesday, April 23 at 5pm, University Librarian Denise Stephens will participate in a Diversity Dialogue Program in the Multicultural Center Theater. The event is titled "Politics of Film Preservation: The Case of 'The Man' and Other Hidden Cultural Legacies."
Actor and cultural activist Clayton LeBouef ("Something the Lord Made," "The Wire") is bringing his people's film preservation movement called Make the Public Conscious (MTPC) to UC Santa Barbara. Stephens will join LeBouef along with Professors Jeffrey Stewart (Chair, Black Studies) and Ross Melnick (Film and Media Studies). Their dialogue will center on the question, "How is a film deemed worthy of preservation?" and the special challenges of preserving older, deteriorating films that deal with black cultural legacies.
Exemplifying the "lost films" that LeBouef's MTPC movement attempts to rescue is a 1972 film entitled "The Man." Written by Rod Serling ("The Twilight Zone," "Requiem for a Heavyweight"), the film is about the first black president (starring James Earl Jones). A special screening of "The Man" will take place in the Pollock Theater on Tuesday, April 23 at 1PM.
This Diversity Dialogue program is co-sponsored by the Multicultural Center, the Office of the Associate Vice Chancellor for Diversity, and the Office of Equal Opportunity, Sexual Harassment, and Title IX Compliance.