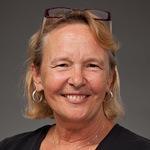 Janet Martorana -- Head, Collection Development -- has been selected as the recipient of the 2012 Amy and Jens Nyholm Prize, awarded to a librarian who has made "an outstanding contribution to librarianship" during the past year. Janet's citation from University Librarian Denise Stephens indicates that she has provided "creative and energetic leadership" for the Library Collection Space Planning Initiative. Janet led the process to develop, analyze, and report the Library Collections Survey and laid the groundwork to relocate over 100,000 volumes from the 8-story tower as part of the Addition and Renovation Project.

Jens Nyholm was a university librarian at Northwestern University before retiring to Santa Barbara. He served as a consultant to the Department of Special Collections and president of the Friends of the UCSB Library from 1971 to 1976.

The entire Library joins in congratulating Janet.