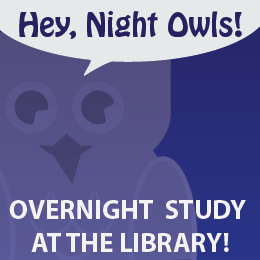 Overnight Study is available on the 1st and 2nd floors of Davidson Library, and begins after regular building hours. Overnight Study is restricted to UCSB students, faculty, and staff. You will need to swipe your campus ID at the main west entrance to gain access during overnight hours.
The Overnight Study area offers a secure study space and will be monitored by campus safety personnel. It includes access to library computers, Wi-Fi, printers, bill changers, copy machines, scanners, vending machines, and reference collections in the open areas.
The Circulation/Reserves desk, Reference/Information desk, and floors 3 through 8 will be closed during overnight hours.