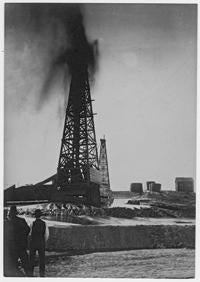 The Department of Special Collections is pleased to announce the availability of the Robert B. Moran and William R. Moran Papers. Most of the material in this collection relates to early oil exploration in California, other parts of the United States, and abroad, complementing the department's extensive holdings in this subject. There is a large photograph component to the collection, with 200 glass plate negatives, 8000 early film negatives and contemporaneous black and white prints, and about 4300 more recent color slides. Portions of these photographs are being scanned, and will appear in the Library's digital collections in the near future.
The photographs range from about 1900 to the present, and are particularly strong in the areas of early oil exploration and drilling along the coast and central valleys of California, geological features of the American west, particularly within the coastal ranges and valleys of central California, Alaska, Washington, Montana, and Wyoming, as well as many early photos of Baja and Peru.
Included among the Baja photographs are early prints, negatives and slides of the flora and physical features of the peninsula and Guadalupe Island, likely taken by explorer and botanist Dr. Reid Venable Moran (1916-2010), William's elder brother.
In addition to the photographs, the collection includes personal, biographical and work related documents for both Robert and William Moran.
Among his many achievements, Robert Moran (1879-1961) has been recognized as a pioneer in the fields of petroleum geology and petroleum engineering, especially in California, and one of the first in his field to utilize the airplane in geological reconnaissance work.
William Moran followed in the footsteps of his father, working as an exploration geologist for Union Oil, and retiring as Vice President for Exploration of Molycorp in 1985. From 1956 to 1989, William was associate editor of the American Association of Petroleum Geologists Bulletin. In addition to his professional work in exploration geology, William was a recognized collection and research in the field of early recorded sound.
The finding aid to the collection may be found on the Online Archive of California here.