Student workers are vital to the work we do at the UCSB Library. It is especially beneficial when students can contribute to the library while they gain practical experience in their fields. Geography major Seth Gorelik, a graduating senior who has worked in the library's Map & Imagery Lab, has been awarded UCSB's Jeremy D. Friedman Memorial Award for doing just that.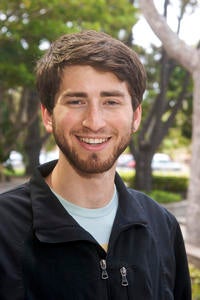 Gorelik's commitment to excellence in geography is evident in his academic achievement as well as in his extracurricular involvement. While at UCSB, he worked as a student intern for the Geography Department's VIPER Lab, as a research assistant for the Earth Research Institute, and also as a grader for the Department of Earth and Planetary Sciences at Santa Barbara City College. He was a volunteer at the Association of American Geographers 2012 Annual Meeting, and was an assistant at the 2011 Esri International User Conference.
Gorelik's most impressive achievement, according to his nominator, has emerged through his work as a student assistant in the Map and Imagery Lab at UCSB's Davidson Library. With superior technical skills and rare initiative, he led the integration of a new set of important GIS technologies into the daily work of the library. He also helped the library create digital data from a wealth of older analog materials in aerial photography, allowing for more seamless, fast, and remote access to map information.
Congratulations to Seth for this well-deserved award.