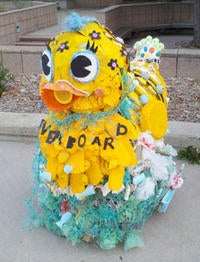 Another duck has been spotted on campus! It showed up Wednesday and has been seen in the Library and at the Arbor.
Created by local artist Holly Mackay, it is made entirely of plastic waste collected from local beaches or taken from trash. Sponsored by the Coastal Fund and Art From Scrap, Holly's goal was to make a 4 foot tall duck that looks like a rubber ducky and is made just from waste plastic.
The duck will be on display in the Library near the 3 elevators on the first floor.
Holly has documented the whole process on her blog.