Go to My ILL Requests through one of the following links:
User ID and PIN: Your User ID for "My ILL Requests" is your UCSB Library Card number. This is the 14-digit number on your library card or Access Card. Your PIN is this same number until you choose to change it.

Home Campus: Choose UCSB only.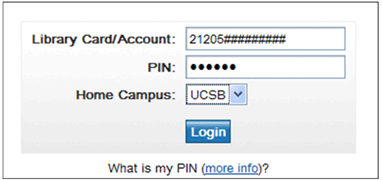 Login Failure messages:

After clicking on the Submit button, your account information will display.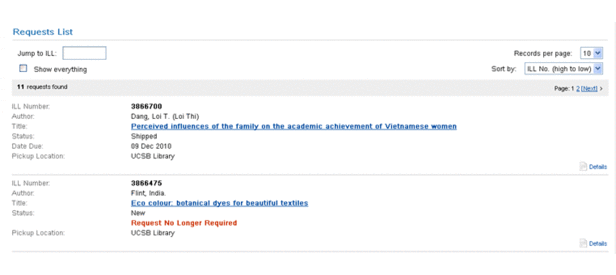 You can choose to sort your requests by Author, ILL No., Title, or Due Date, and you can display up to 20 requests per page. We suggest sorting by ILL Number / descending, which will generally display the most recently submitted requests at the top of the list. After you select an option the page will automatically sort.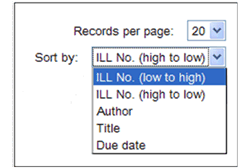 Only active ILL requests display. This includes items that are being processed, pending at potential suppliers, shipped but not yet arrived, received, and returned but not yet checked in at the supplying library location. Requests submitted through the UCSB ILL Manual Request Form require special handling and may not display in your ILL account for several days.
If you have no active ILL requests, the following will display:
A typical request in your list will look like this:

The "Status" of your requests will be displayed in the record. Following is a list of possible statuses and what they mean:
More Information About "My ILL Requests"