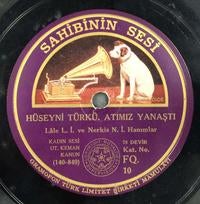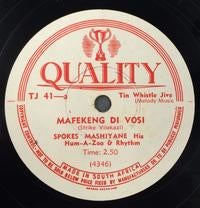 Two new international 78prm collections have been added to the historical sound recordings archive in Special Collections.
The Kutay Derin Kugay collection of Turkish recordings contains almost 500 commercial 78rpm discs from Turkey and Greece dating back to 1907. The bulk of the collection is from the 1930s and 1940s. This collection fills a considerable gap in the library's holdings in an area of highly collectible and difficult to find recordings. The collection was donated by Kutay Derin Kugay, a collector, radio host, and world music specialist from the Bay Area.
The second collection, the African 78rpm collection, contains about 350 commercial 78rpm discs from Central, Eastern, and Southern Africa, mostly popular music from the 1950s and 1960s. African 78rpm discs, which are even more rare and difficult to find than Turkish recordings, are among the most sought-after of all 78rpm discs. Almost no institutional collections of original commercial African recordings from this era exist in the United States. The collection was acquired from Greg de Villanova, a French-Brazilian DJ and music producer based in Paris.
Both collections will be cataloged and digitized in the coming months.
To see the discs from the Kugay collection that have been cataloged, click here.
To see the African discs that have been cataloged, click here.
For additional information on the collections, contact Special Collections at special [at] library [dot] ucsb [dot] edu.