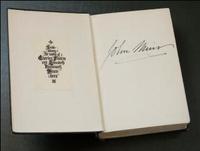 UC Santa Barbara Library is pleased to announce an agreement with the Santa Barbara Botanic Garden to house the Garden's rare book collection, containing over 750 titles dating back to the seventeenth century. The collection, to be recognized as the Sara Miller McCune Collection of the Santa Barbara Botanic Garden's Rare Books, will be available in UCSB Library's new Special Collections facility beginning in 2016.

Some of the oldest titles in the collection are: The Anatomy of Plants by Nehemia Grew (1682); The English Gardener (sure guide to young planters and gardeners) by Leonard Meager (1682); The Gardeners Dictionary by Philip Miller (1768); and Systema Hort-culturae by John Woolridge (1700). This valuable collection includes the titles: A Voyage to the Pacific Ocean by James Cook (1785); Results of a Biological Survey of Mount Shasta, California by Merriam C. Hart (1899); An Artist Records the California Missions by Henry Ford Chapman (1889); and The Missions and Missionaries of California by Zephyrin Engelhardt (1908, 1929).
Groupings of works by important environmental luminaries such as Charles Darwin (~12; dates 1875-1896), Asa Gray (~16 books; dates 1845-1891), and Charles Francis Saunders (~20; dates 1911-1939), are among the important tomes included in this collection. Also included are a number of signed early editions by such celebrated authors as John Muir – The Yosemite (1912) – and Philip H. Staats – with a copy of Californian Architecture in Santa Barbara (1929) autographed to Pearl Chase.
Housing the Garden's rare books at UCSB Library will ensure broad and reliable access to these rare books for researchers and the community. UCSB Library's new Special Collections facility, currently under construction, will provide this irreplaceable collection with the resources necessary to safeguard it for the future—including a temperature controlled environment, conservation lab, rare book vault, digitization equipment, and waterless fire suppression system.