The Library has launched the "Living the Values" employee recognition program to recognize staff who embody the Library's values through their actions, activities, and deeds. Every two months, one of the six core Library values is celebrated by the program. During this time all employees are encouraged to nominate their colleagues who are living that value.
Congratulations to these administrators, librarians, staff, and student workers who are "living the value" of collaboration: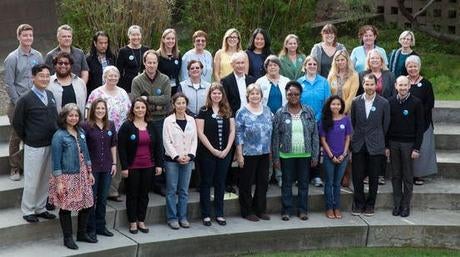 Al Garza, Ameer Shakour, Ana Fidler, Angela Chikowero, Annie Platoff, Barbara Lansdon, Briana Beghi, Casey Caldwell, Cedar Lay, Chizu Morihara, Chrissy Rissmeyer, Christian Layow, Claudia Jimenez, Dan O'Brien, David Horwater, Dela Ramboyong, Denise Stephens, Doug Watt, Elaine McCracken, Elizabeth Rodriguez, Eric Mulhaupt, Ernest Alexander, Gabe Contreras, Gary Colmenar, Gary Johnson, Greg Sinicrope, Haakon Ellingboe, Heather Nisen, Ian Lessing, Jenn Thompson, Jenny Cardenas, Jerri Thiel, Jessie Jones, Jim Buffon, Joey Garcia, Jon Jablonski, Juliana Marcos, Larry Young, Lauren Hetland, Leahkim Gannett, Mai Jahangir, Mallory Gianola, Marcos Aguilar, Margaret Driscoll, Margaret Evans, Margaret Rankin, Maricel Cruz, Martha Peyton, Marti Jean Kallal, Michael Kim, Mindy Mendez, Nick LaViola, Phil Watt, Reyna Duran, Rya Agatep, Ryan George, Sal Guerena, Sarah Steinman, Shajan Kay, Sidney Rhoads, Socrates Silva, Stephanie Caral, Stephanie Tulley, Susan Moon, Taylor Carman, Trish Kreiss, and Yasemin Norris.