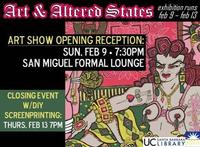 If you missed the Altered States exhibition at the UCSB Library (Fall 2013), there is now another opportunity to view it at the San Miguel Residence Hall. Art & Altered States is an exhibition of twelve silkscreen prints by Diane Gamboa from the Library's California Ethnic and Multicultural Archives (CEMA) .
Los Angeles-based Chicana artist Diane Gamboa is well-known for her photographs documenting the punk rock music scene in Hollywood and East L.A. and for her disposable "Hit and Run" fashion shows featuring paper streetwear. Art & Altered States explores the work of the artist as subaltern provocateur. Gamboa's iconography challenges the viewer by drawing us into vibrant and psychically intense settings that push the boundaries of our dualistic understandings of the dominant and subordinate, male and female, human and object, and pain and pleasure. Influenced by her work with marginalized communities such as homeless youth and transvestites, the series of prints created by Gamboa between 1983 and 2009 evokes both a sense of alienation and reclamation.
In an effort to bring art into the living and learning communities of the UCSB residence halls, the Library has let Housing & Residential Services borrow the collection of prints.There will be an opening reception Sunday, February 9th at 7:30 pm with a short talk by Cristina Serna of UCSB's Chicano Studies Department about art & community. The exhibition will be on view in the San Miguel Residence Hall's Formal Lounge from Sunday, February 9 – Thursday, February 13.