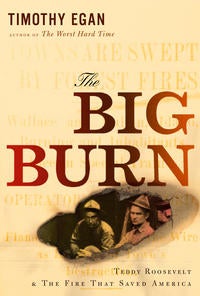 On Wednesday, January 15 at 10am, Chancellor Henry Yang and Dilling Yang, University Librarian Denise Stephens, and Associated Students President Jonathan Abboud will distribute free copies of the UCSB Reads 2014 book selection to UCSB students in the Library lobby. This year's book is The Big Burn: Teddy Roosevelt and the Fire That Saved America by Timothy Egan.
The Big Burn is the story of the nation's largest wildfire, which in 1910 burned over 3 million acres in 2 days across the national forests of Washington, Idaho, and Montana. Set against the backdrop of the fire, Egan chronicles the social, cultural, and political history that led to the formation of the U.S. Forest Service. Pioneers in the new notion of conservation, President Teddy Roosevelt and chief forester Gifford Pinchot created the idea of public land as our national treasure, owned by and preserved for every citizen.
The free book giveaway kicks off an exciting quarter of UCSB Reads events, including book discussions, film screenings, faculty panels, an exhibition and artist talk, and a reading and book-signing by the author. All events are free and open to the public (no tickets or RSVP required). A full listing of events can be found at http://guides.library.ucsb.edu/UCSBReads.