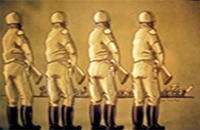 This exhibition looks at communities of color in California and their struggles for civil rights and social justice in the sixties, seventies, and eighties. Flashpoint issues of the era included racial inequalities, police brutality, opposition to the Vietnam War, and educational inequities.
Against the Wall is presented in conjunction with UC Santa Barbara's 2013-14 Critical Issues in America Series, which is examining "The Great Society at Fifty: Democracy in America, 1964/2014." Items in the exhibition are drawn from the California Ethnic and Multicultural Archives (CEMA) in the Library's Special Collections.
Exhibition on view in the Library's Third Floor Gallery from January 7 through March 31, 2014.