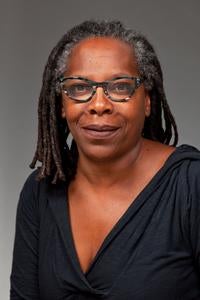 Librarian Sherri Barnes has been selected as the recipient of the 2013 Amy and Jens Nyholm Prize for her leadership related to scholarly communication. The Nyholm Prize is awarded annually to a librarian who has made an "outstanding contribution" during the past year. Sherri's nomination cites: "She has worked tirelessly and with endless enthusiasm" and "has succeeded in making the UCSB Library…the campus authority for scholarly communication and publishing issues."
Jens Nyholm was a university librarian at Northwestern University before retiring to Santa Barbara. He served as a consultant to the Department of Special Collections and president of the Friends of the UCSB Library from 1971 to 1976.
Sherri was recently named to the new position of Scholarly Communication Program Coordinator. In this role, she is responsible for raising campus awareness of emerging trends in academic publishing, including open access and author rights.