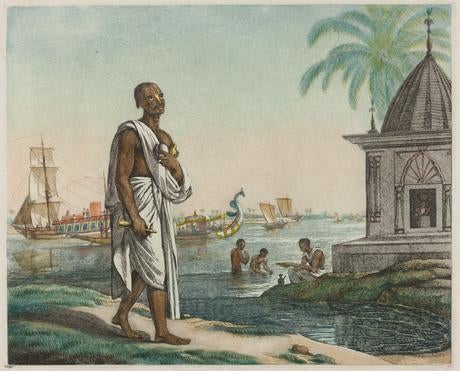 In the late eighteenth century the British East India Company became the dominant foreign power in the Indian subcontinent following a series of military and economic victories. Over the course of the nineteenth century the British expanded their holdings and became the official rulers of India. Throughout the eighteenth and nineteenth centuries a diverse crop of British colonialists traveled to India seeking fortune and adventure abroad. This group included artists, merchants, soldiers, aristocrats, surveyors, and academics. These different individuals produced unique representations of India, which speak to the diversity of the colonial experience. Conjuring India: British Views of the Subcontinent, 1780–1870 examines the different perspectives of this heterogeneous group. The exhibit relied on books from the Sara Miller McCune Collection that includes original eighteenth- and nineteenth-century works produced by some of the most eminent historical figures of the colonial age. The exhibition was on display in the Department of Special Collections at the UCSB Library.
The exhibit author is Mira Rai Waits, a Ph.D. student in History of Art and Architecture at the University of California, Santa Barbara. She earned her MA from the University of California, Santa Barbara in 2009. Her master's thesis examined fingerprinting and photography in nineteenth century India. In 2008 she interned with both the Los Angeles County Museum of Art (LACMA) and the Hammer Museum at the University of California, Los Angeles. She is also the editorial assistant for the Journal of the Society of Architectural Historians. Her current research examines the visual economy of the colonial prison in nineteenth century India. Mira is under the advisement of Professor Swati Chattopadhyay.
Exhibition was on view through December 15, 2013.