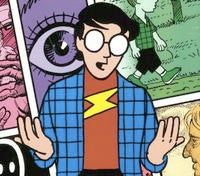 On Wednesday, April 10, renowned comics artist and theorist Scott McCloud will present the free Regents' Lecture on "Understanding Comics and Visual Communication" at 8pm in Campbell Hall. The Library is a co-sponsor of McCloud's visit to campus.
Creator of the comic series Zot! and author of the graphic masterwork Understanding Comics, McCloud is one of the top comics theorists today. Frank Miller (Sin City) calls him "just about the smartest guy in comics," while Art Spiegelman (Maus) says of McCloud: he "deconstructs the secret language of commix while casually revealing secrets of Time, Space, Art and the Cosmos!" In a lucid, witty, and dynamic free public lecture, McCloud will demonstrate why the genre of comics is as vital as film, prose or any other art form.
More about the event can be found on the Arts and Lectures website.