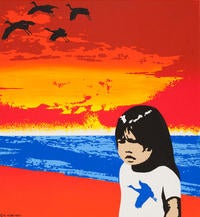 Currently on view on the main floor of Davidson Library is Picturing Community: Posters, Photography, and Poetry from the Kearny Street Workshop Archives.
Kearny Street Workshop is the nation's oldest Asian Pacific American multidisciplinary arts organization. Once called a "model grassroots program" by the National Endowment for the Arts, Kearny Street Workshop was founded in 1972 in San Francisco's Chinatown. Its mission is to produce, present and promote art that empowers Asian Pacific American artists and their communities. Today Kearny Street Workshop is still a thriving center where artists develop their talents, connect with each other, and stage exhibitions sharing their vision through posters, photography and poetry.
The posters in the Picturing Community exhibit illustrate the creative energy that emanated from the Asian Pacific American community in the 1970s and 1980s. Poster art has long been a popular and accessible medium for oppositional art on topics ranging from threat of nuclear war to unfair housing practices and health care. It also is a vehicle through which cultural affirmations and a spirit of community are expressed.
Images in this exhibit are replicas from the Kearny Street Workshop Archives, found in the California Ethnic and Multicultural Archives (CEMA) of UCSB Library's Special Collections Department. More artwork from the Kearny Street Workshop Archives can be viewed online [https://digital.library.ucsb.edu/collections/show/16 ].