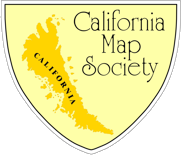 The Map & Imagery Lab will play host to a twice-annual meeting of the California Map Society on Saturday, February 2nd. CMS meets twice yearly, once in Northern California and once in the South.
Researchers from UCSB, librarians from Stanford, UCSB and the Los Angeles Public Library, as well as local experts will present on topics of interest to cartographic enthusiasts and collectors. A tentative schedule and registration information is available on the CMS website.
MIL is thrilled at the opportunity to host the meeting, and encourages other community groups to arrange visits to campus. MIL staff is happy to provide presentations on local history, spatial data and analysis, and highlights from our extensive collections.