As one of several leading collections of its kind, the Colección serves as the university's major source of information on the cultural heritage and history of Chicanas/Chicanos and Mexicans in the United States. The collection is named after Tloque Nahuaque, an Aztec god who took several forms. In his appearance as Quetzalcoatl, he was the patron god of learning and knowledge.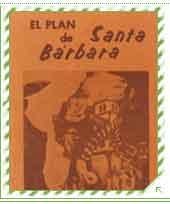 It all started in 1969, when UCSB became the first UC to start a Chicana/Chicano Studies program. That year, Chicano students, faculty, and staff banded together to create a roadmap for the development of the program. They called this "El Plan de Santa Barbara."
The UCSB Library's Chicana/Chicano Studies collection was established two years later by University Librarian Dr. Donald C. Davidson, with 700 books. The Library now has over 22,000 books in the collection.
In 1994, nine Chicano/Latino UCSB students staged a 10-day hunger strike. One of their demands was the creation of a Chicana/Chicano Studies Ph.D. program at UCSB. In 2005, that dream was realized and the first cohort began their journey towards a Ph.D.
This year, three UCSB graduate students, Jessie Turner, Thomas Avila Carrasco, and José G. Anguiano Cortez have become the first in the world to earn a Ph.D. in Chicana/Chicano Studies. Congratulations to all for this groundbreaking achievement!
Read more about these three amazing UCSB alumni: http://gradpost.ucsb.edu/headlines/2012/8/3/ucsb-makes-history-with-worlds-first-chicano-studies-phds.html
To learn more about the Colección, contact UCSB Chicana/o Studies Librarian, Salvador Güereña or visit http://www.library.ucsb.edu/ethnic-gender-studies-library/coleccion-tloque-nahuaque
To find out more about the Chicana and Chicano Studies Department at UCSB, please visit http://www.chicst.ucsb.edu/