The library's me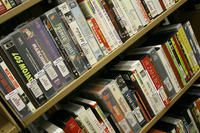 dia collection supports the research and teaching needs at UCSB. The collection contains feature films, documentaries, and other genres from around the world, in both VHS and DVD formats. While most of the videos are in the NTSC standard (used in the USA, Canada, and Japan), there are videos in the PAL standard (Europe, Asia, and Australia) and the SECAM standard (France, Russia, Africa).
Items with the location "Media Collection" are located in the Reference area on the 1st floor of Davidson Library. Juvenile media are housed in the Curriculum Laboratory.
Items from the Media Collection may be checked out or viewed on the library's media equipment.