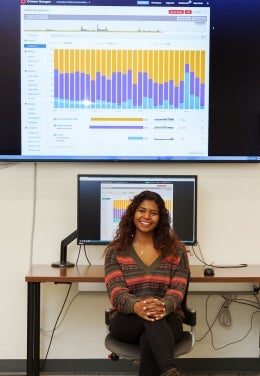 The Twitter hashtag #NoDAPL has inspired a timely UCSB undergraduate research project.
Environmentalists and social activists are using the hashtag to indicate their disapproval of the Dakota Access pipeline, a controversial underground oil pipeline from North Dakota to Illinois.
Victoria Mansfield, a fourth-year UCSB environmental studies major, with a minor in professional writing, decided to explore the issue for her senior thesis project. But she's researching an aspect of the controversy that she wouldn't be able to do without the UCSB Library: the role of social media in activism against the pipeline.
Mansfield said she also wanted to research the framing of the discussion around the pipeline — whether people were talking about it with concerns related to environmental problems, climate change, or indigenous people's rights.
To do that, she needed access to a powerful social media analytics platform called Crimson Hexagon that is currently available to UCSB students in the Library's Interdisciplinary Research Collaboratory.
"The Library was the only place I could have access to it; it's really expensive software," she said. Shari Laster, UCSB Library Government Information Librarian and Data Services Librarian, taught her how to use the complex platform.
"Shari was very helpful," Mansfield said. "Both Shari and Heather Hodges, a post-doctoral scholar at UCSB who has previously used Crimson Hexagon, helped me navigate the platform."
Mansfield has collected most of the historical data she needs, and is in the process of analyzing and writing about it.
 "I knew I wanted to do something related to climate change, policy, and activism," she said. "I was seeing a lot of posts about it on my own social media accounts, because I know lots of people in environmental and social justice circles."
The Crimson Hexagon research is one-half of the project, Mansfield said. She has also sent out a survey to social media users to gather qualitative data about their pipeline posts.
"I wanted to test whether online mobilization led to offline mobilization — whether posting about the pipeline made people attend an online event, or donate money or resources," Mansfield said.
Mansfield said she is using Crimson Hexagon to analyze Twitter data by categorizing posts over a period of time.
For example, she searched for all the people who used the hashtag #NoDAPL. She "trained" the program to distinguish among posts that primarily addressed indigenous issues, and those focusing on the climate or environmental threat, to categorize the content of the sample of tweets.
So far, Mansfield said, her research shows that most posts were about the threat to indigenous sovereignty, by about 1 percent. Her hypothesis was that the environmental threat would be the most talked-about point. "So it's surprising that it's almost a tie between environmental risk and the threat to indigenous sovereignty," she said.
Mansfield plans to present her research results at the UCSB Undergraduate Research Colloquium and to the Environmental Studies Department in May, and beyond that is considering how else she might share her project results.
"It's one of the first research projects on the Dakota pipeline, so I'm pretty proud of that," she said.
Mansfield, who is graduating this year, said she's taking a year off to apply to law or graduate schools, and is interested in environmental law.
"Ultimately, I hope my project will be able to help activists in other social movements," she said.