UCSB Reads is an award-winning campus-wide and community-wide "one book" program started by the UCSB Library and Executive Vice Chancellor Gene Lucas in 2007. Each year, a committee of faculty, staff, students, and community partners convene to select an intellectually stimulating, interdisciplinary book by a living author that appeals to a wide range of readers and can be incorporated into the UCSB curriculum.
The program kicks off on at the start of the winter quarter with the Chancellor, Executive Vice Chancellor, and University Librarian distributing free books to UCSB students in the Library. A variety of UCSB Reads events (book clubs, film screenings, exhibitions, and faculty panel discussions) exploring the book and its themes are held on the UCSB campus. The program culminates in a live appearance by the author. Events are generally free and open to the public.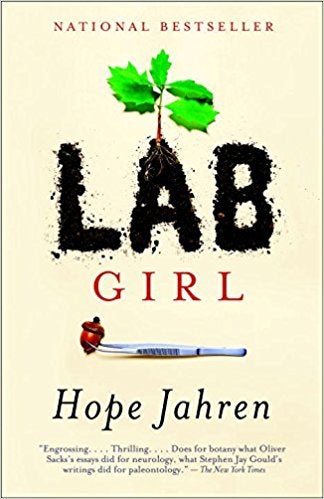 In 2018, we read Lab Girl by Hope Jahren. Learn more about UCSB Reads 2018.
UCSB Reads is presented by the University Library, the Office of the Executive Vice Chancellor, Associated Students, and additional campus and community partners. If you are interested in finding out more about sponsoring the Reads program, contact Library Development Director Toni Arellanes-Miller at (805) 893-5732 or toni [dot] miller [at] ucsb [dot] edu.
Click here to subscribe to our e-newsletter and have information about upcoming UCSB Reads events delivered directly to your inbox.
To suggest a UCSB Reads title please use our online form.  
UCSB Reads Books:
2017: Into the Beautiful North by Luis Alberto Urrea
2016: Just Mercy: A Story of Justice and Redemption by Bryan Stevenson
2015: Orange Is the New Black: My Year in a Women's Prison by Piper Kerman
2014: The Big Burn: Teddy Roosevelt and the Fire That Saved America by Timothy Egan
2013: Moonwalking With Einstein: The Art and Science of Remembering Everything by Joshua Foer
2012: Moby Duck: The True Story of 28,000 Bath Toys Lost at Sea, and of the Beachcombers, Oceanographers, Environmentalists, and Fools--Including the Author--Who Went in Search of Them by Donovan Hohn
2011: The Immortal Life of Henrietta Lacks by Rebecca Skloot
2010: Enrique's Journey by Sonia Nazario
2009: Ethics for the New Millennium by Dalai Lama
2008: The Travels of a T-shirt in the Global Economy by Pietra Rivoli
2007: Field Notes from a Catastrophe by Elizabeth Kolbert
UCSB Reads 2019 Advisory Committee:
| | | |
| --- | --- | --- |
| Kristin | Antelman | University Librarian |
| Rebecca | Baker | Graduate Student, English |
| Roman | Baratiak | Associate Director, UCSB Arts & Lectures |
| Stephen  | Bigelow | Faculty, Math |
| Elizabeth  | Bowman | Director, Santa Barbara City College, Luria Library |
| Miroslava | Chavez-Garcia | Faculty, History |
| Jane  | Faulkner | UCSB Library |
| Katie | Feerst | UCSB Undergraduate Student |
| Kathy  | Foltz | Faculty, Molecular, Cellular, and Developmental Biology |
| Zaveeni | Kahn-Marcus | Director, UCSB MultiCultural Center |
| Shelly | Leachman | UCSB Office of Public Affairs |
| John  | Lofthus | Associate Director, UCSB Alumni Association |
| Malire  | Lozada | UCSB Undergraduate Student |
| Don | Lubach | Associate Dean of Students & Director, First Year & Graduate Student Initiatives; Faculty, Education |
| John  | Majewski | Dean, College of Letters & Sciences, Humanities & Fine Arts; Faculty, History |
| Rebecca  | Metzger | UCSB Library |
| Kathy | Patterson | Faculty, Writing Program |
| Katherine | Peterson | UCSB Undergraduate Student |
| Alex | Regan | UCSB Library |
| Heather  | Silva | UCSB Arts & Lectures |
| Chryss | Yost | Office of International Students & Scholars |
| Xiaojian  | Zhao | Associate Dean, Undergraduate Education; Faculty, Asian American Studies |
| Emily  | Zinn | Associate Director, Carsey-Wolf Center |