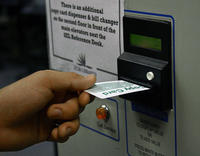 Copy cards can be used in the library's photocopiers and at the library print stations. The photocopiers also accept coins and cash, but copy cards are required for some services such as photocopies from Special Research Collections.
You Must Have a Copy Card to:
Print from our public print stations
Print from our microform machines
Get copies of materials in Special Research Collections
Where Can You Buy a Copy Card?
You can buy a copy card from the card dispensers at the following locations:
UCSB Library

1st floor Mountain Side, in the main computing area near the Reference Desk
1st floor Mountain Side, in the Learning Commons

Music Library

2nd floor, near the photocopier
How Do They Work?
Buy a blank copy card for $1.00.  The card is reusable, so you should only need to do this once.
Remove the card from the dispenser and insert it in the slot at the upper right of the card dispenser to add value to your card.
Add value to your card in one of two ways:

Using the card dispenser

Insert the card into the slot at the upper right of the card dispenser.
Deposit bills ($1, $5, $10, or $20). One card can hold a maximum of $25.
The machines accept cash only (no credit cards or Access cards).
A "Bill Breaker" machine is located near the dispensers in UCSB Library to get smaller bills.
Coins can only be added to your card at a photocopier.

Using the card reader of a photocopier

Insert your card into the card reader.
Deposit your change or bills (the machines do not accept pennies).
When you remove your card, the cash value will be transferred to your card.

We recommend adding a little bit at a time.  You can always add more value to your card later.
Where Can You Get Change?
"Bill Breaker" machines are located next to the copy card dispensers in the UCSB Library.
You can change $5, $10, and $20 bills into smaller bills.
These machines do not give coins.